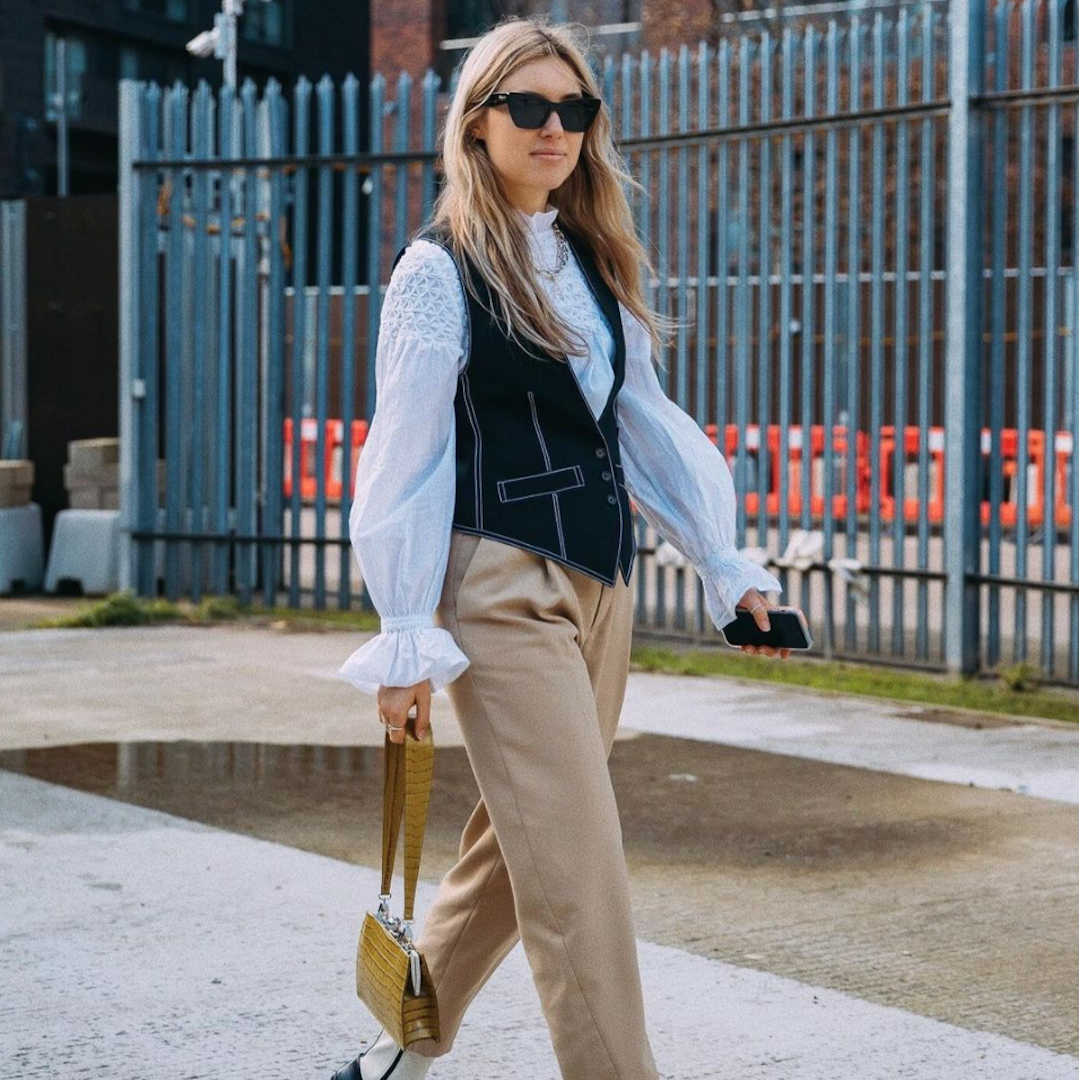 Wind Down with Fashion Editor Aemilia Madden
For Aemilia Madden, senior fashion editor at The Zoe Report, winding down before bed is essential; it's her way of clearing her mind and combatting daily stressors that prevent a restful sleep. From skincare to journaling, this editor takes us through her nightly ritual step by step.
Do you have a bedtime ritual?
Usually, I wind down from my work day by washing my face, tucking into bed and either reading or watching something lighthearted on my laptop. 
What do you wear to bed?
I tend to be pretty casual — I rotate between slip dresses, boxer and button-down sets, or an oversized tee or sweatshirt. Sometimes, I just sleep naked!
What is on your bedside table?
I just moved apartments and don't currently have a bedside table, but on the floor next to me I keep my current book and a glass of water.
Do you have any recurring dreams?
I have a lot of stress dreams related to something I did during the day, especially after the last year. I also get sleep paralysis on occasion so dreaming is not usually a pleasant or positive thing for me.
Are you reading or watching anything good at the moment?
I'm in the middle of Circe which I'm enjoying! 
Which scent makes you think of bedtime?
Mint tea always makes me think of going to bed. Also, my mom puts on a rose lotion before bed every night so when I'm home, that scent always makes me feel relaxed and comforted.
What are some nighttime items you cannot live without?
Definitely my skincare routine – putting on face oil or lotion always makes me feel prepped and ready to relax. In New York I also couldn't sleep without my air conditioner. In California, I love to sleep with the window open to let a cool breeze in, but NYC summer means I have to create the effect artificially.
What is your guilty pleasure?!
I have a sweet tooth so most nights I end the day with dark chocolate chips or some ice cream.
How do you engage in self-care?
Being outside always helps me wind down, so I love taking evening walks after a tiring day at work. Also, I'm in the middle of decorating my new apartment and I think that creating a tranquil space is another important part of self care. I can't relax in a stuffy, messy space.
What do you consider the single most important thing for a good night's sleep?
For me, it's definitely taking care of my mental health. If I'm still stressed from my day, my thoughts will spiral and keep me up all night. Breathing exercises, listening to podcasts, and journaling have all helped me to better wind down.
Did you have a bedtime routine growing up?
My parents used to get so frustrated with me because I was a big reader and would sneak under my covers and read by flashlight after they put me to bed. I loved mystery books like Nancy Drew and would hang on every page, so they'd often find me up past midnight.
What was your favourite childhood bedtime story?
My dad and I would read fantasy books like Harry Potter and The Hobbit together. Those were my favorite bedtime stories.
What is your skincare and beauty routine like? Do you have any holy grail products?
I own a lot of beauty products (a benefit/hazard of being an editor), but while I like having a wind-down beauty ritual, every day is different for me. Sometimes, it really is just washing my face with water. I've really been enjoying trying my friends' brand Dieux Skin's Deliverance serum and Isla Beauty's Storm serum. My favorite face lotions are Tata Harper and Drunk Elephant, but I'm currently out of both so I've been experimenting with new cremes. Chanel has a nice lightweight formulation that's great for summer.
How would you choose to spend one hour of free time?
Outside — running, hiking, or walking somewhere with a view.
If you could choose a song to wake up to every morning, what would it be?
That's hard, but lately, Maggot Brain by Funkadelic has been a favorite morning song. The guitar riff builds in this epic, energizing way. It's not a song that makes you jump out of bed, it just wakes you up slowly but surely until you're like "wow, ok I'm up now!"