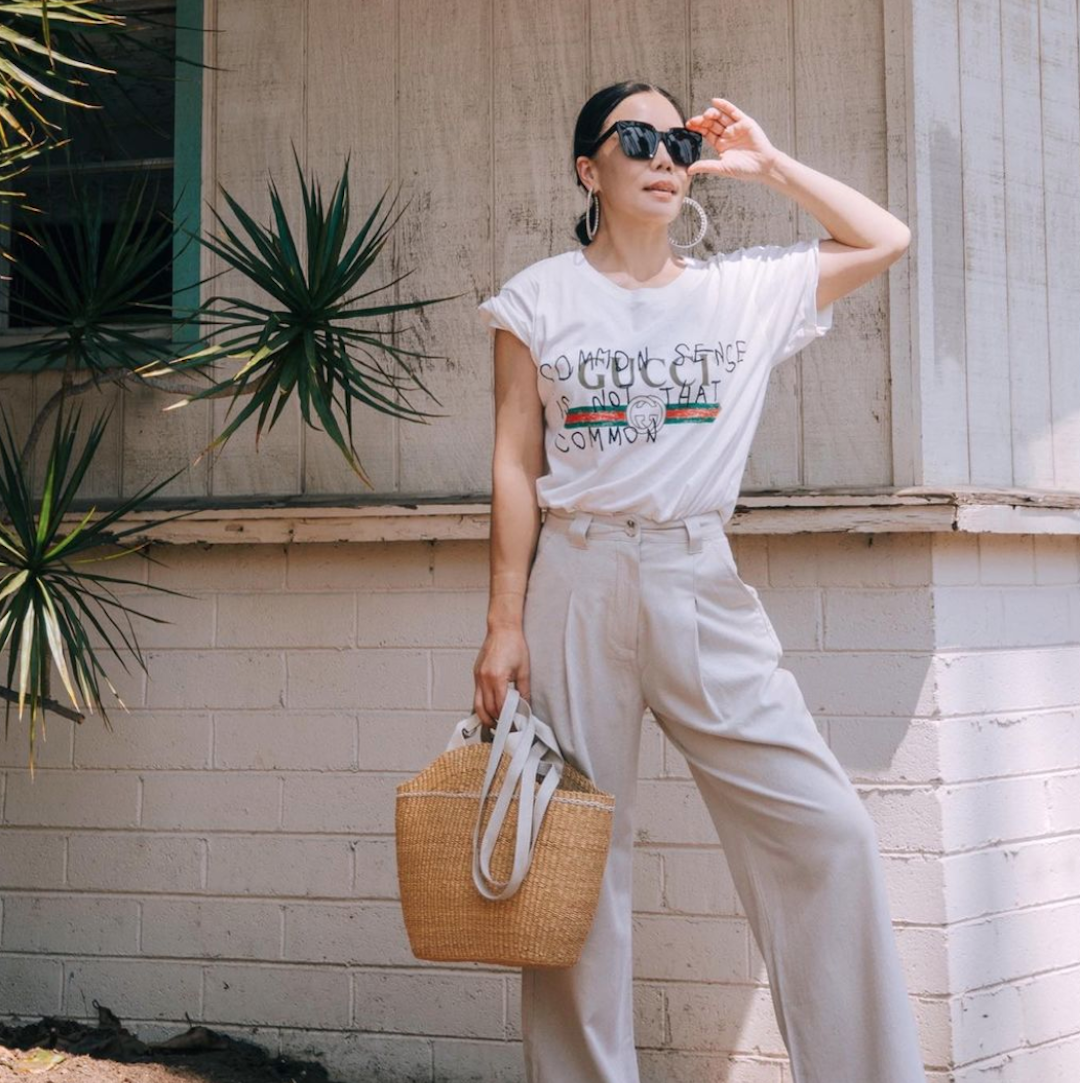 What This Fashion Blogger Wears to Bed Might Surprise You
Meet Hallie Swanson, the undeniably chic LA-based fashion blogger behind Hallie Daily. We chatted with her about all things bedtime and got the inside scoop on her "off-duty" time. What she wears to bed just might surprise you! And her take on self-care? It will inspire you to show yourself a little extra love.
Do you have a bedtime ritual? 
Yes! Shower, brush my teeth, bedtime story or chat with my son, a back massage from my husband and then… Namaste!
What do you wear to bed?
Mostly, it's  a T-shirt & sweatpants in Summer, and a long-sleeve sweatshirt and sweatpants in Winter.  After my son was born, I stopped regularly wearing nightgowns and pajama sets.  My husband  and I are like Papa and Mama Bear —always in  "ready mode" during the night to go out and check for any problem whenever our dogs bark. Once, when my husband was overseas on business, police chased a criminal right into our backyard in the middle of the night, so I most often put readiness over sexiness when I sleep!
What is on your bedside table?
Lip-balm, hand cream, a natural sleep supplement, some Gua-sha facial tools and rollers and a bottle of water– a must-have!
Are you a night owl or an early bird?
Always an early bird — not because of the worm, but because of my son and dogs.
Which scent makes you think of bedtime?
Lavender.
Are you reading or watching anything good at the moment?
This might not be the "good" thing to watch, but  lately I  have been watching a Japanese crime drama series called,"Guilty Flag." I can't wait to see the end!
What are some nighttime items you cannot live without?
An overnight face cream, lip balm, hand and foot cream– I would never go a night without any of them.
What is your guilty pleasure?
Salty snacks, especially sweet and sour dried plums. I have to watch my high blood pressure, so the snacks are bad for that.
Do you have any new year's resolutions?
I never have made one, but my style is to be present in the moment and let my instincts guide my decision making.
What health & wellness trends are you interested in trying in 2022?
The face LED masks that currently are on your website.  I don't really believe in miracles, but we can always dream about it!
How do you define self-care?
You can only take good care of the people you love if you take good care of yourself first.  So, self-care is not only for myself, but for the people I love.
What is your favorite way to de-stress?
Go to the gym and dance — and a spa after sounds amazing!
What is your favorite fashion trend at the moment?
I don't really follow fashion trends too closely.  I don't even know what are the trends are at the moment.  I just look at everything I can, and decide what I personally like, whether it is "on trend" or not.
What do you consider the single most important thing for a good night's sleep?
Not drinking to much water before bed…you know LOL
What was your favourite childhood bedtime story?
My parents were hard-working people in a small city in China. Not only did they work hard at their factory jobs, but they also took care of my sick grandma, who lived with us at that time. So, I don't remember many childhood bedtime stories. My biggest memory was  going to bed feeling very cold in the winter and very hot in the summer, because our apartment had neither heat nor air-conditioning.  I am not complaining, but my childhood makes me appreciate what I have now that much more.
What is your skincare routine like? Do you have any "Holy Grail" products?
My skincare routine is kind of simple. Cleansing and moisturizing are the two most important steps in my routine.  Beyond that, I use a face mask 2 or 3 times a week.  I like to change my beauty products often, to keep my skin feeling fresh and light. Always looking for that Holy Grail!
How would you choose to spend one hour of free time?
Go to the gym and dance! Dancing makes me happy, even if I am so BAD at it. Ha-ha!
If you could choose a song to wake up to every morning, what would it be?
I don't need to choose, I already have my favorite song to wake up to every morning— the song that the birds make just outside our windows as the sun is coming up. Sometimes it is mixed with the song of our neighbor's rooster crowing!
Hallie's Picks