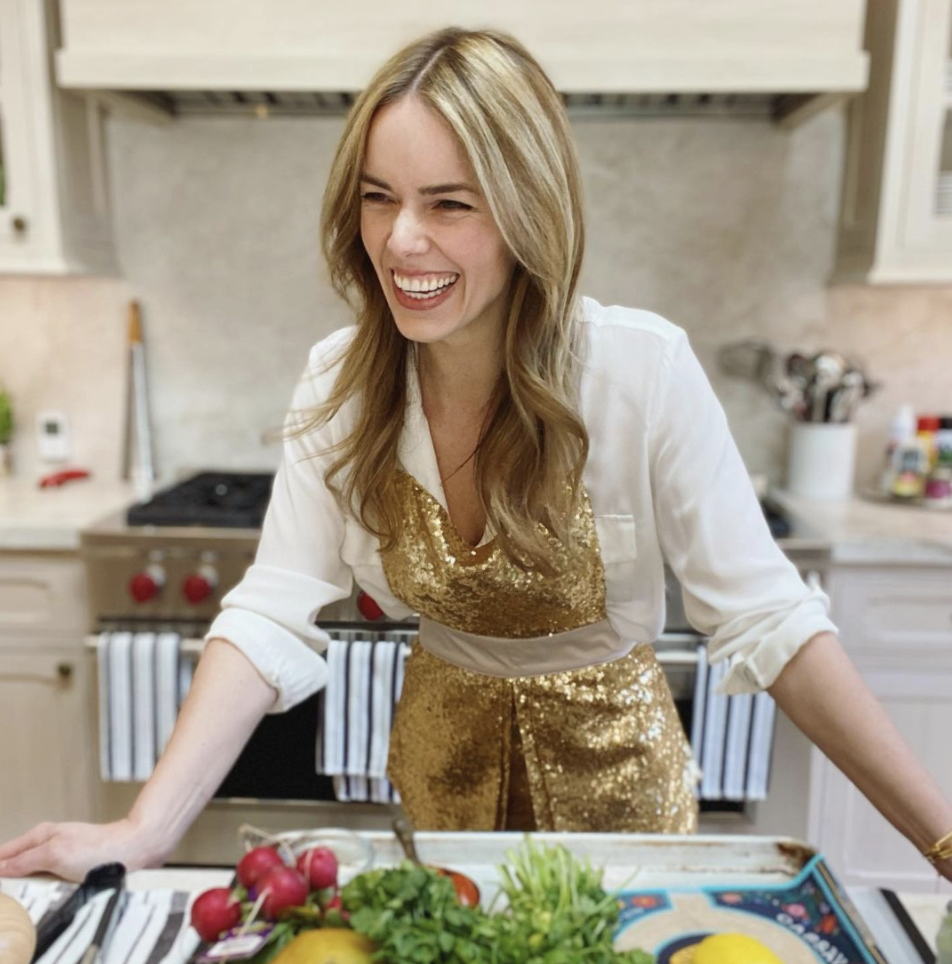 Serena Wolf, Chef & Author, Has a Skincare Routine You Want to Know
Meet Serena Wolf, chef, author of The Dude Diet and our favorite IG food follow…who also has amazing skin and style. You'll be inspired by her serious skincare routine and very cool approach to eating (& drinking!) well.
Do you have a bedtime ritual?
I do a rather elaborate evening skincare routine that is most definitely ritualistic. It takes about 10 minutes, and it's very soothing.
What do you wear to bed?
Proud naked sleeper here.
What is on your bedside table?
A small lamp, whatever book I'm reading at the moment, a bottle of Highline Wellness CBD oil, a silk sleep mask, and a glass of water. 
Do you have any recurring dreams?
Ugh, yes! Whenever I'm stressed about anything personal or professional, I always have the same dream: I'm back in college and have to take a final exam or write a paper for a class that I didn't know I was in. If I don't pass, I won't graduate…
Are you reading or watching anything good at the moment?
I just finished The Last Flight by Julie Clark, which was an excellent snappy thriller, and I'm loving Mare of Easttown and Cruel Summer. (The former is the best drama I've seen in a long time, and the latter is just really captivating medium-trashy TV.)
Which scent makes you think of bedtime?
Fresh sheet smell! I don't really know how to describe it, but it's the best.
What are some nighttime items you cannot live without?
My retainers?
What is your guilty pleasure?!
Gummy candy—specifically Albanese gummy bears, Sour Patch Kids, and the Sour Scandinavian Swimmers from Trader Joe's.
What's your #1 comfort food?
Pizza forever. Preferably half tie-dye, half supreme from Rubirosa NYC.
What's something everyone should/can easily learn to cook well?
A frittata! Once you master the technique, the filling possibilities are endless, and it's such a satisfying (and impressive) anytime meal. 
How do you engage in self-care?
Spending quality time with my husband and close friends is a big part of self-care for me (even though it involves others). Taking breaks from my phone (this is a constant struggle, but it's the nicest thing I can do for my mental health), daily movement (I love Melissa Wood Health's workouts), reading medium-trashy novels, and good long soaks in the bath.
What do you consider the single most important thing for a good night's sleep?
Clearing my mind! I'll often jot down any thoughts/to-dos that come up before bed to get them out of my head and onto paper. I also find that not looking at my phone for half an hour before bed massively improves my sleep (forever working on this). 
Did you have a bedtime routine growing up?
Not really, but I did always listen to a book on tape (which was literally on a TAPE) while falling asleep. "From The Back of The Bus" and "Sideways Stories from Wayside School" were my favorites. 
What was your favourite childhood bedtime story?
The Runaway Bunny!
What is your skincare and beauty routine like? Do you have any holy grail products?
How much time do I have? I LOVE skincare, so I have a pretty serious morning and evening routine. In the morning, I use my NuFace Mini (an at-home microcurrent device that lifts and tones the facial muscles—I can't recommend it highly enough), then cleanse, tone, and apply an eye cream Vitamin C serum (most days), moisturizer, and sunscreen. At night, I double cleanse, tone, use an exfoliating serum/mask/or retinol (every other night), eye cream, then apply a hydrating serum and moisturizer. As far as holy grail products go, I'm a diehard Skinceuticals CE Ferulic fan. I also swear by Biossance Squalane + Peptide eye gel, and I've been using the Caudalie SOS Thirst Quench Serum for years. And Skinceuticals Physical Fusion Sunscreen! I'm very minimalist when it comes to makeup, but I couldn't live without my Clinique Pretty Easy Liquid Eyelining Pen, Ilia Limitless Lash Mascara, and Charlotte Tilbury Matte Revolution Lipstick in Pillow Talk.
How would you choose to spend one hour of free time?
Taking a beach walk with my husband. Preferably at sunset with a cocktail. 
If you could choose a song to wake up to every morning, what would it be?
You Make My Dreams Come True by Hall & Oates.