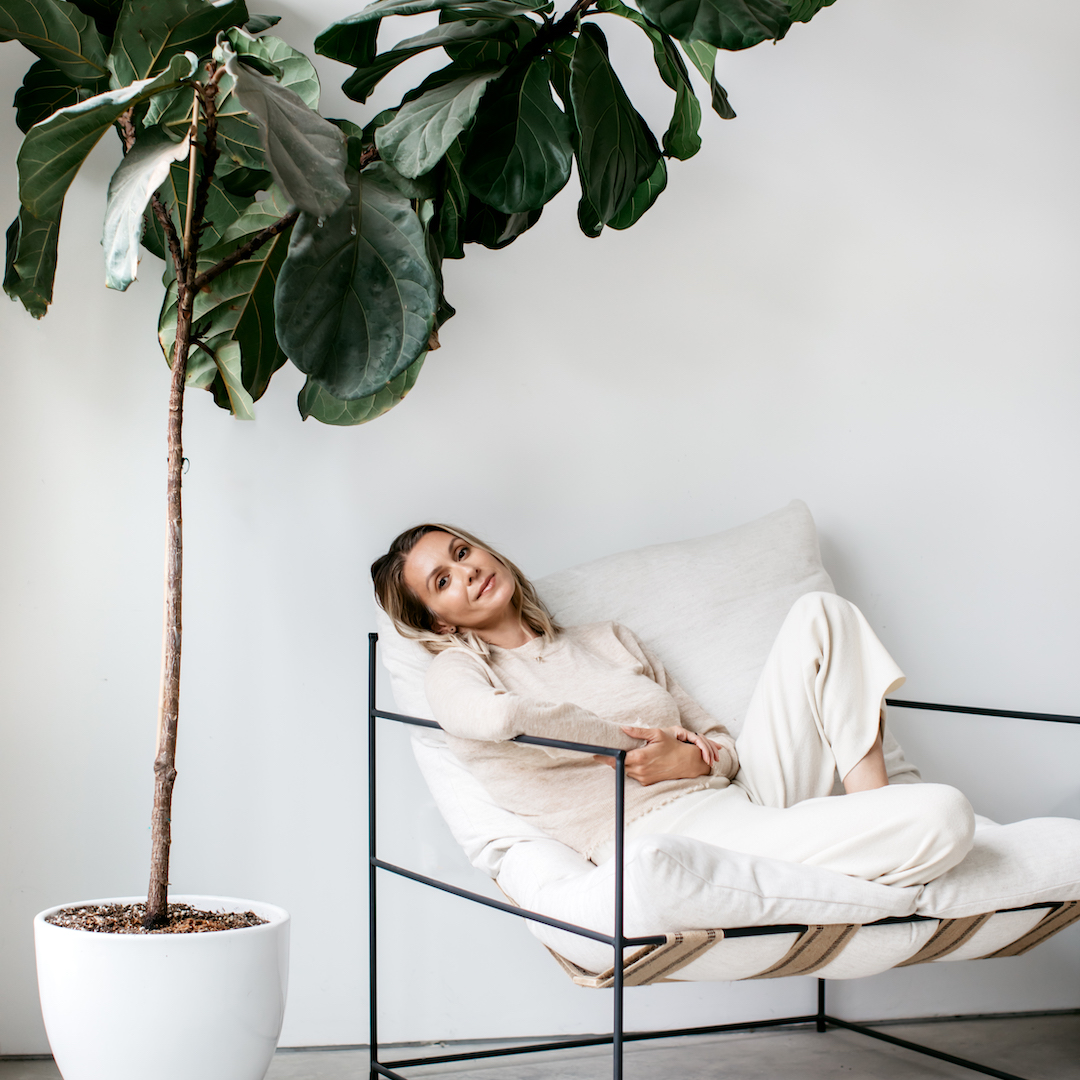 natureofthings Co-Founder Jamie Pelayo is Building a Sustainable Brand
Jamie Pelayo is all about clean beauty and sustainability. In fact, that, coupled with the daily practice of self-care, make up the very ethos of her brand natureofthings. She shares with us insider information about clean ingredients, sustainable packaging, and being at the forefront of the beauty industry. And because building a sustainable brand takes work, she also shares with us her relaxation rituals!
What inspired you to start natureofthings?
We saw an opportunity to create a range of purposeful wellness products that solved for the internal and external signs of pain and inflammation while also beautifying the skin.
What does clean beauty mean to you? Do you think the industry needs to hold brands to a higher standard?
The idea of clean is evolving. For certain, we believe eliminating petrochemicals and hormone-disruptors, and formulating with non-toxic and cruelty-free ingredients, covers a lot of those bases. From there, it's about looking at natural sources where it matters. This is a bit of a balancing act because many of these sources contain potential allergens. Essential oils, for example, can be considered irritants for some, but have so many benefits for others. So it's about weighing the pros and cons when it comes to sensitivities.
We also believe in science-backed formulations. I think there is a belief that whole plant is always cleaner or better, but that's not always the case. Some extracts and oils don't naturally penetrate the dermis and just coat the skin, which can cause clogged pores and irritation. We wanted to make our products as efficacious as possible, so in many cases working with naturally derived ingredients in a lab setting allows us to isolate the most effective part of the plant while maintaining product stability.
Stability has been a huge issue for clean brands because it often means eliminating preservatives, which shorten shelf life and cause mold and quality issues. Partnering with clinical science, but still having strict ingredient standards, is the best way to ensure that we can offer a clean product that meets our performance expectations.
And yes, of course the industry should be held to a higher standard. I think many consumers are already taking it upon themselves to demand this and retailers [followed by brands] are making adjustments to evaluate their standards. Knowledge is power and we personally hope to keep abreast of all developments to make sure we are on the forefront of industry standards.
It's clear that a lot of thought went into the design of your packaging. And the result is beautiful. What were your main considerations throughout the design process?
It definitely goes back to the idea of clean products and our commitment to sustainability. We asked ourselves, "What is a clean, non-petrochemical derived product worth if it's fully packaged in petrochemical plastic?"
We had this in mind when designing our packaging and opted to minimize the amount of plastic we use. We continue to look for new innovations in the market to replace the small amount that we do have to utilize.
Working with glass and wood allows us to push the narrative beyond recyclability towards repurposablity. Making the vessels beautiful, sculptural objects with minimal branding allows for display on bathroom counters, whether full or not. Finding creative ways to reuse is always going to be better than throwing anything in a bin and hoping someone else solves it!
Part of your brand ethos is practicing daily self-care, which we are big advocates of at The Sleep Code. For you, what are the most important elements of self-care? How do you ensure that you are partaking in acts of self-care every day?
In general, it's about finding moments to be present and loving to myself. Breathwork is essential. It's incredible how much we take breathing for granted. It seems like an automated bodily function, but it's actually something we need to cultivate a practice for. Our overall health and life span are tied to how we breathe and how many breaths we have to take. I try to incorporate the practice of three souls breathing on the daily as an intentional pause or way to start the day.
At least 2-3 times a week, I escape to the bath to soak in one of our treatments. Steeping in excess of twenty minutes gives me those moments of relaxation and a lot of time to read and be inspired. That followed by a five minute manual massage using our Nourishing Body Creme, is thirty minutes of pure bliss.
In all honesty, sometimes it's hard with two small kids at home to start the day the way I want, so washing my face with our Face Essentials – just those three steps – can check the box on my self care moment.
What's next for natureofthings? Can you give us any sneak peeks?
So many exciting things ahead! You can be sure we are still looking at all of the ways to enhance those meaningful moments of self care between the bathtub and the vanity.
Rapid Fire Round:
Do you have a bedtime ritual? 
Yes, but it involves reading stories with and cuddling with a toddler and baby.
What do you wear to bed? 
Anything comfortable and lightweight.
What is on your bedside table? 
My phone for my evening meditation app, a glass of water to keep hydrated, and my natureofthings x Brock Collection sleep eye mask.
Do you have any recurring dreams? 
Not recently. There are some places I've visited in my dreams a few times that feel very real, but they only exist in the dream realm.
Are you reading or watching anything good at the moment? 
The French series Lupin and Call My Agent have been recent favorites. Our household is also very big on The Great British Baking Show. I'm currently studying French and herbalism so I read a ton. For pleasure, I've been working my way through Braiding Sweet Grass by Robin Wall Kimmerer.
Which scent makes you think of bedtime?
Lavender and Rose, both of which are in our natureofthings x Brock Collection aromatherapy dream pillow.
What are some nighttime items you cannot live without?
natureofthings Rejuvenating Overnight Facial Mask and our aforementioned natureofthings x Brock Collection sleep eye mask and aromatherapy dream pillow.
What is your guilty pleasure?! 
Sleeping in – a rare, but very guilty pleasure in my household.
What do you consider the single most important thing for a good night's sleep? 
Tough question for someone with a baby…. but in reality, trying to shift consciousness with meditation or herbal teas to get out of the beta brainwave state and into delta as easily as possible.
Did you have a bedtime routine growing up?
I remember as a preteen going through a phase of falling asleep to Pink Floyd's Dark Side of the Moon.
What was your favourite childhood bedtime story?
The Legend of Kamapua'a – tapping into my family's island roots.
What is your skincare and beauty routine like? Do you have any holy grail products?
I keep things simple. I like to have a monthly or quarterly facial, and use our three-step Face Essentials Collection every morning and night. I also use our Rejuvenating Overnight Facial Mask 3-4x per week and opt out of our moisturizer if I apply the mask.
I try to have my eyebrows done at Striiike every 4-6 weeks which frames the face, allowing for me to just focus on a quick application of mascara (Ilia), tinted sunscreen (UnSun) or highlighter (Westman Atlelier), and lip gloss (Westman Atelier) or colored pencil lipstick (NARS).
For body work, I can't live without Ricari Studios signature treatment every 4-6 weeks. It's simply the BEST! But if I need something more potent, I opt for a house call and get a wet cupping and body alignment massage. It's not very pleasant at the time, but nothing feels better afterwards.
How would you choose to spend one hour of free time? 
Doing a plant meditation or yoga nidra – who doesn't love a yogic nap?
If you could choose a song to wake up to every morning, what would it be? 
My son singing Frère Jacques or the Beatles, Tomorrow Never Knows.