What inspired you to start your gorgeous range?
When my son Romeo was a baby he developed super sensitive skin. I found that the ointments that were prescribed to him were causing a whole new set of problems. They were petroleum based and all had steroids and a long list of chemicals. They would heal the dry spots but cause rashes. I decided to make something out of the time honored and trusted ingredients I grew up using and loving. At 13 he still uses the #1 balm that he inspired.
What is the meaning behind the name Olio e Osso?
Olio E Osso means Oil and Bone. Olive Oil is the backbone ingredient to our line. It gives structure and foundation to the whole range. Both Oil and bone are fundamental needs for healthy living.
So many of your fabulous products work as multitasking items. What are some unexpected ways you use your products?
I have always used #0 under my nose when I travel but lately it's been a must under my nose in mask! It helps keep my breathing clear and mind alert.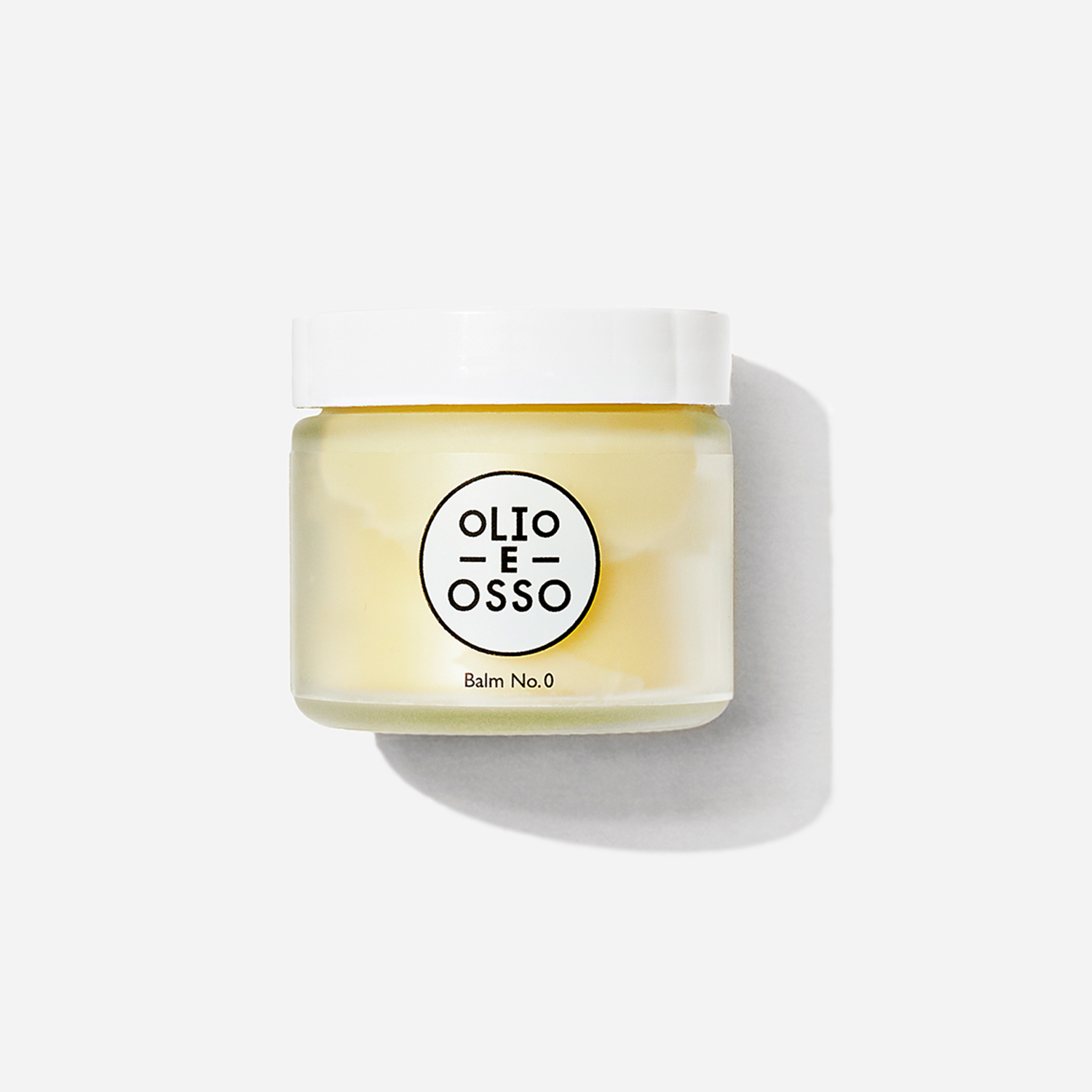 Olio E Osso
No. 0 Jar
$55.00
Your full-body wake up in a jar. This natural menthol balm pairs nourishing olive and shea oils with beeswax and grapefruit to stimulate tired temples, clear congestion, soothe sore muscles, and leave your lips tingling.
Olive oil is a foundational ingredient in your products. How did you get the idea to incorporate it in your first creation?
Olive Oil is like an old trusted friend. I was raised with it as the go too for healing and health. I have known of its high nutrient and humectant properties for years and knew that it would bring a nourishing depth to the line.
I am obsessed with your balms! Do you have a favorite one that you gravitate towards?
Ha! That is way too hard!! They are all my babies. I'm super lucky that I don't have to choose. The ones I always carry are #5/7/8/13, the new Lab01 and #0… and of course, I have a few sheens and lipsticks. Honestly, my bag is like a clown car.
Which product of yours would you never leave the house without?
Hmmm. One, only one? I absolutely never leave without a #0 in my pocket. BUT if I have a little more space I add a Begonia and Valencia lipstick, ( because the lipsticks are great on eyelids above the mask) and our hand cream to keep our over washed hands healthy. The hand cream also has the added benefit of a beautiful, calming scent that helps balance your mood.
Which product of yours is the most beloved by your customers?
I would say any of the Balms. Everyone has a favorite. Or a favorite few.
What is your skincare routine like?
Super simple! Wash with our oil Cleanse at night followed by our Finishing moisturizing oil. Splash my face in the morning followed by Finishing oil. After the oil has absorbed I put sunblock on. I exfoliate once or twice a week as needed and I drink a ton of water!
What has been the most rewarding reaction to your brand?
I have always been cautious of labeling our line as strictly green or natural. (People always want to put things in a box, why do it to yourself?) We are but I don't think that we should be defined by just that. We should be defined by how well our products work and how they add value to people's routines. One of my favorite reviews we had for our Balms was in, I think, Vanity Fair. It had us listed as one of the top ten best Balms with a bunch of the older, standard-bearing trusted brands. Nothing was said about being green just that we are good. The fact that we are good for you is an added bonus!
I love that you are moving further into the world of makeup products, especially considering your history as a makeup artist. Do you have a favorite of your new items?
I'm really proud of our lipsticks! I worked on the formula for a long time. I wanted to create a creamy, smooth, moisturizing, high pigment lipstick with as few ingredients as possible. I only used what was really essential and left out the extras including stabilizers, preservatives, and slicking agents. When you have a shortlist of ingredients there isn't much to hide behind. I love a challenge!
What makes you the most excited by the increased interest and research in clean beauty?
I love anything that empowers people to make good choices for themselves and for our communities' futures.
You have so many inspiring women working with you. Do you have a top tip you've picked up from another working mother?
Breathe!! Never be afraid to pivot and adapt.
What is your advice for aspiring female entrepreneurs?
You will be judged and you will have doubters. Don't let them get you down but listen to what they PERCEIVE as your weak spots. Take those comments as an opportunity to strengthen your business and keep moving forward.
Balance is an unachievable concept– how do you deal with the overwhelming days?
I try to stop what I'm doing and walk. And cook, always cook. Cooking is like meditation for me.
What is next? Any sneak peak?!
I am working on a few things that will be coming out soon… all I can say is that they are awesome!!!!