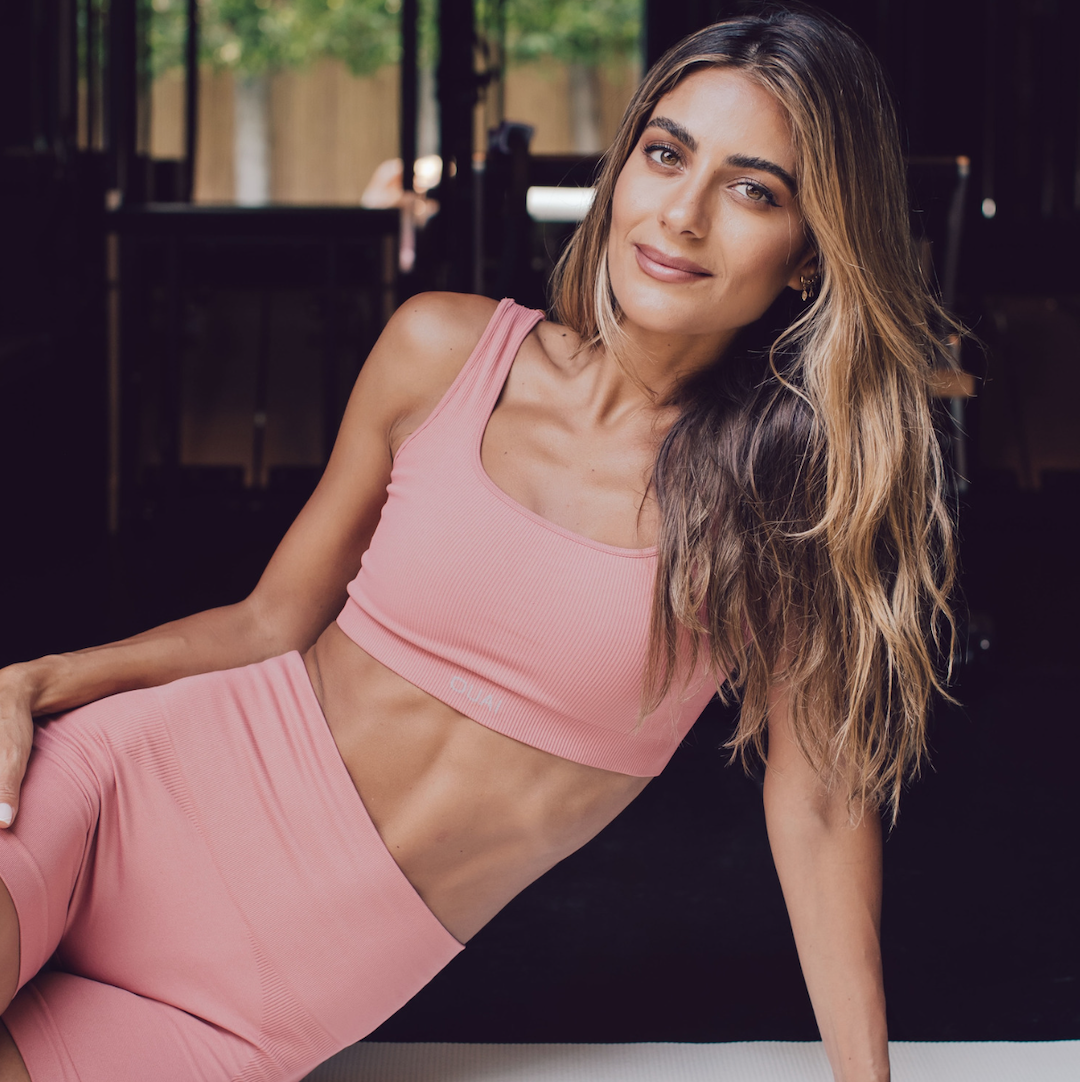 Meet Liana Levi, Founder of Hollywood's Favorite Workout: Forma Pilates
Ever wonder what it's like to workout like an A-Lister? We chatted with Liana Levi, founder of Forma Pilates, about her star-studded studio that draws clients like Kendall Jenner and Hailey Bieber. She also shared how to practice mindful self-care, kickstart our workout journey (spoiler: you only need 10 minutes a day), and bring more joy to our daily rituals.
In 2009 you founded Forma Pilates. What inspired you to open your own studio? How has your business evolved since opening your doors?
I started my own studio because I absolutely loved Pilates and how it improved both my physical and mental well being. I had been doing it for over 10 years and I wanted to share my passion and knowledge with others so that they could also feel strong and confident.
Forma Pilates has evolved in the best possible way and I'm so grateful for all the change and growth that has occurred over the past (almost) 2 years! We have three studios now and are looking to open a fourth in NYC this Spring. We also have an online program with such inspiring clients from around the world. We feel so fortunate to have such an incredible community both online and in-person that continues to grow everyday.
The interconnectedness of the mind, body and soul is extremely important to us at The Sleep Code– something that you focus heavily on at Forma. Do you have any tips on how we can recenter ourselves throughout the day/before bed to reduce stress and anxiety?
I'm a strong believer in movement and also listening to one's body. We are all so busy and constantly looking at screens, so I try whenever possible to listen to my body and take time to disconnect, whether that be a 20 min Pilates session, sitting with friends or taking a bath. These small practices really help keep me calm and centered when I'm feeling stressed or anxious about something.
Do you prefer to work out in the morning or at night? What is your go to routine for waking up, or winding down?
I definitely prefer a morning workout because I feel like it's the best way to start any day! It gives me so much energy and sets me up for a productive day. I do love an afternoon hike as well, as a way to wind down after a busy day.
A typical day for me starts with a five to ten minute guided meditation, getting out of bed, whisking up some Alfred matcha, going for a morning walk with my two cavapoos, a quick Pilates session and then I'm off to work!
Do you have any at home workout recommendations for when we can't make it to an in-person class or to the gym?
My recommendation for anyone working out alone or at home is for them to join us on our Forma App online program. It's so much more motivating when you're being guided through a workout, than trying to create one yourself. Also, I would tell them to move their body for as much time as they can. Consistency is key and doing a 10 minute workout is better than not doing one at all.
Rapid Fire Round:
Do you have a bedtime ritual? 
My bedtime ritual usually consists of my nighttime skincare routine and catching up on some of my favorite shows or reading a book. I try to keep it simple and relaxing, especially after a long day.
What do you wear to bed?
I love a good pajama set!
What is on your bedside table?
Water (always!), my phone, a notebook and a candle.
Are you a night owl or an early bird?
I'm most definitely an early bird. I usually get up between 5am and 6am every morning.
Which scent makes you think of bedtime?
There are two: It's either my bedtime essential oil blend of Lavender, Eucalyptus and Velor or my Baies Diptyque candle. Both make me think of bedtime.
Are you reading or watching anything good at the moment?
I'm currently watching the latest season of Ozark & reading The High 5 Habit.
What are some nighttime items you cannot live without?
A few items I can't live without are my nighttime skin care products that I apply before I go to sleep, my essential oil diffuser filled and on for the night and a cup of Sleepytime tea.
What is your guilty pleasure?
My guilty pleasure is chocolate or a night in watching a movie (or both)!
What health & wellness trends are you interested in trying in 2022?
I am really eager to try neurofeedback brain training and get deeper into my meditation practice. I want to focus on strengthening my mind as much as I do my body.
How do you engage in self-care?
There are many ways I try to engage in self-care, and it always goes back to listening to my body to tell me what it needs most. I absolutely love Detox by Rebecca and I go to her whenever I can for a lymphatic drainage massage. I also try to take baths when I have time, schedule a facial or just put my phone down and spend quality time with my friends and family.
What is your favorite way to de-stress?
My favorite way to de-stress is to take a Forma Pilates class either in the studio or online. I honestly feel like a new person every time I finish one.
What is your favorite workout at the moment?
Forma Pilates!
What do you consider the single most important thing for a good night's sleep?
A perfectly cozy and comfortable bed 🙂
What is your skincare routine like? Do you have any holy grail products?
My holy grail products are: Agent Nature Holimane Collagen, Agent Nature Acid Wash, Jan Marini Regeneration Booster Face Lotion, Biologique Recherche Masque Vivant and Biologique Recherche Lotion P50W.
How would you choose to spend one hour of free time?
If I'm in need of some "me time" then I would probably take a bath or schedule a massage, but if not then I would spend it with my family or my close group of girlfriends.
If you could choose a song to wake up to every morning, what would it be?
'Let's Stay Together' by Al Green.
Liana's Picks