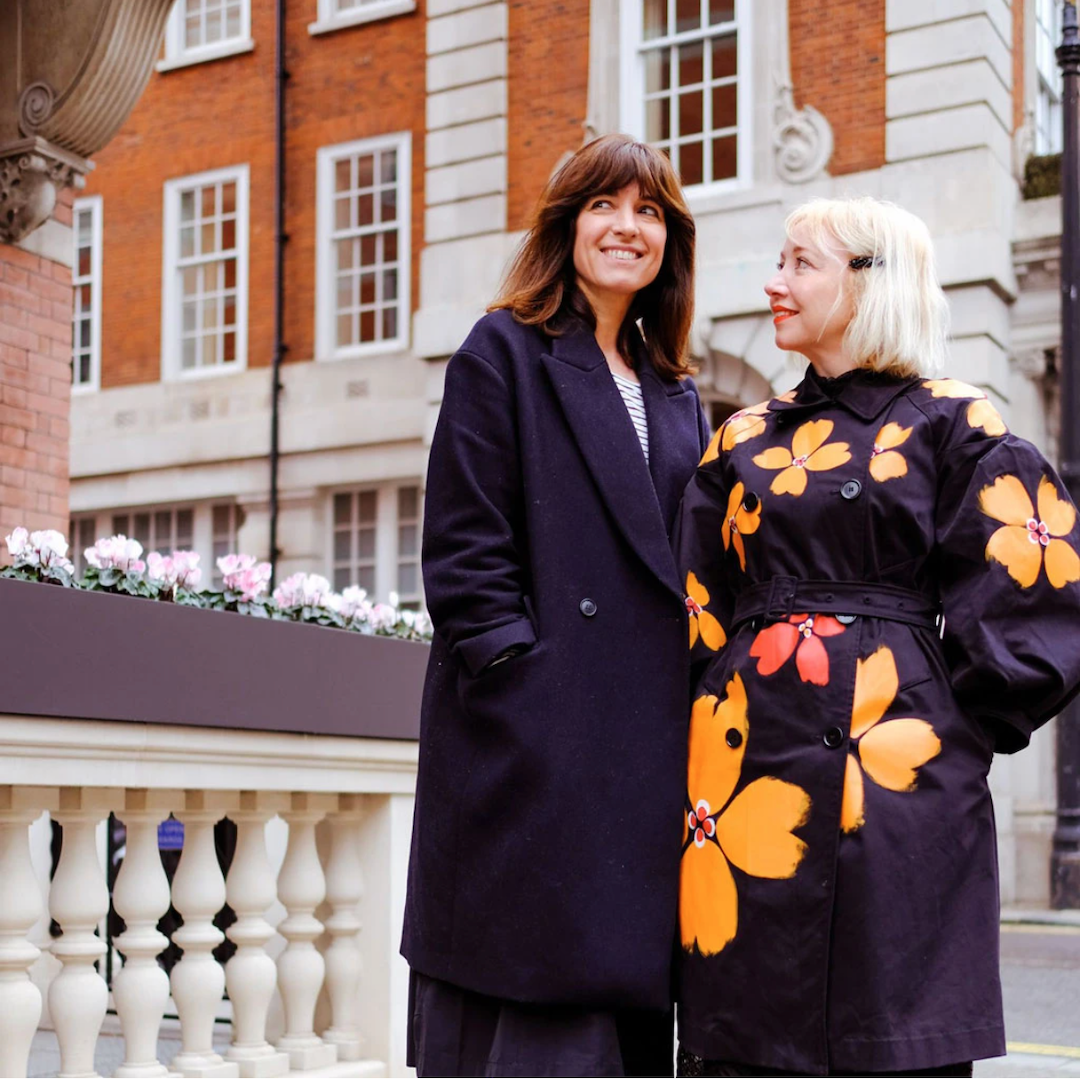 Meet Laura Ferguson & Hannah Measures of The Light Salon
Laura Ferguson and Hannah Measures are more than just business partners. They're the best friend skincare-loving duo behind The Light Salon, our favorite at home LED treatment. We chatted with them about all things business and beauty, and even got a sneak peek into future LED innovation.
What initially prompted you to start The Light Salon? 
LF: Having previously worked in a wonderful but very exclusive private members spa, it was important to me that we created an inclusive offer, which was not only affordable but was something we'd use ourselves. We wanted a salon concept that took all the best bits from an advanced facial but was delivered with convenience, away from a treatment room and a bed. Clients sat in a beautiful and comfortable armchair, in an environment which was both relaxed and sociable. We also wanted to add a little bit of sunshine to someone's day – put a spring into a step and make a difference, even just a small one. From launch our treatments were described as affordable luxury, and daily we watched our clients leave with friends or family and a happy smile on their face.
HM: For me, I was working so hard for clients (I was in Advertising), constantly thinking of ideas for others. I really felt like it was time to do something for me. Laura had moved to Australia and it was the first time in what is now a 25 year friendship that we weren't able to talk to, or see each other, at any time of any day. I had become obsessed with my LED facials, kindly given by Laura in the build-up to my wedding, and I realized I couldn't live without Laura or LED. Laura saw how accessible LED was in Australia, so she suggested we do the same for the UK. I saw that there wasn't a convenient facial offer, like there is for hair, brows and nails, so we developed a facial offer that would sit within the 'Sociable Grooming' of department stores, launching first in Harvey Nichols. 
You first opened your doors in 2015 and now have multiple locations across the UK and US. What have been some of the biggest challenges faced during this growth? What have been your favorite milestones?
LF: Hannah and I love celebrating and when you first launch a business, milestones are easily recognised and celebrated frequently. As the business grows and pressures increase, it's easy to slip into the habit of not pausing to recognise any achievement – big or small – as you're always focused on what needs to be done next. Hannah's fantastic at making us stop and appreciate the changes and progression. She'll recap a past year, or particularly difficult period, and make sure we acknowledge our accomplishments together, even if it's just to raise a glass. It may sound like a small act but it's hugely important and can have such a positive and energising effect on you and your mindset. 
HM: The biggest milestone has been getting The Light Salon off the ground in the first place– developing our idea together, selling in to experienced beauty buyers from prestigious stores who believed in us, and watching it evolve into a product range sold by partners we have admired for years. This followed by the response from press, and most importantly, developing relationships with our clients.
My role is about developing our brand, working on how it looks, whilst Laura is all about how it feels. And we come together on innovation. On our first day, it was hard to know what my role was when clients came in because Laura was giving the treatments. But it was so natural, and effortlessly became two friends inviting clients into their 'home' to look after them. We even used a paint colour with the name 'Welcome' as it was so important to us that people felt instantly as ease and cared for. 
Challenges are many, every single day there is a challenge. We're often asked by those who have never run a business, "so what do you do all day?" Everyday is different and everyday is challenging. Some days it can become overwhelming, but mostly you just ride out the challenges and learn from them.
In addition to being business partners, you have a friendship that spans over 20 years. What has been the best part about starting a business/working with your friend? 
LF: The enjoyment you get from creating something from nothing, with someone you love, is really quite amazing. And for us, it went beyond just our friendship. Our families have been such an integral part of our journey – husbands, parents, in-laws, siblings. We've had so much family involvement and support; emotionally, physically, and financially. Which is a testament to the depth of the friendship, and another wonderful bonus of starting a business with a friend.
HM: The ease that comes with knowing each other so well. We always think the same thing, but given our different professional backgrounds, come at a problem/solution in a different way. When launching in the US we were back and forth to the East and West Coast, sharing a bed rather than getting our own hotel room, and generally going to sleep laughing. 
What was the motivation behind creating at home LED treatments? Did you see a gap in the market?
LF: Our Light Salon customers (both weekly and monthly visitors) were asking for recommendations on what at-home LED devices they could use in between visits. When we researched the market, we realised there were very few good quality options which delivered both clinically proven and accurate wavelengths – which in turn encouraged us to launch our own.
HM: Yes, absolutely. We also had a client-base who wanted to use something in between treatments to maintain their glow. We wanted to be 100% sure we were giving them access to the same quality, and same clinically-proven wavelengths, as they were experiencing with us in-salon.
What are some of your favorite skincare trends? What trends do you hope are short-lived?
LF: LED still feels like a new trend to some; however, it's been used to treat skin for decades. I struggled with acne through my teens and twenties so achieving healthy, smooth skin was always my goal. When I was introduced to LED in my early thirties, it was like I found my skin's best friend. For the first time, a salon treatment soothed away my angry blemishes and smoothed my rough complexion. It was confidence changing for me, which is why I'm so passionate about sharing our love of light. 
HM: I love natural skin. I'm never without my lipstick and mascara, but I want my skin to be as natural as possible, so it's just light tinted moisturizer and blush. I'm not into heavily made-up skin for many reasons. Firstly, I don't know how to apply make-up like this. I have full respect for those who can, but I'm incapable! It's also so time-consuming and I imagine skin must feel quite suffocated under all those layers. I would love women to embrace who they are and work with what they've got, rather than trying to change themselves. It's a lesson to us all, myself included. There is nothing more beautiful than someone comfortable in their own skin and a happy, smiling face. 
What's next for The Light Salon? Can you give us a sneak peek?
LF: LED is more than a skincare treatment – its powers of healing, circulatory, and hormone support are equally as impressive. We have always wanted to be a family brand, as the benefits can be utilised for many different skin, health, and wellbeing indications, across all ages. We'd like to build on our LED-family-care offering, through the introduction of new, but clinically proven, wavelengths.
HM: More targeted LED innovation, though we also want to establish our existing range just as much as we want to innovate. We always set out to be trusted and timeless, not a fad. We want to be the brand who really educates and advises on what LED can do for you, your skin and your wellbeing. We are so much more than a skincare brand, we offer tools to support you from head to toe. We care deeply about how people feel, so if we can continue making people feel good about themselves, with both our products and our own experience, then we'll continue being really happy friends in business.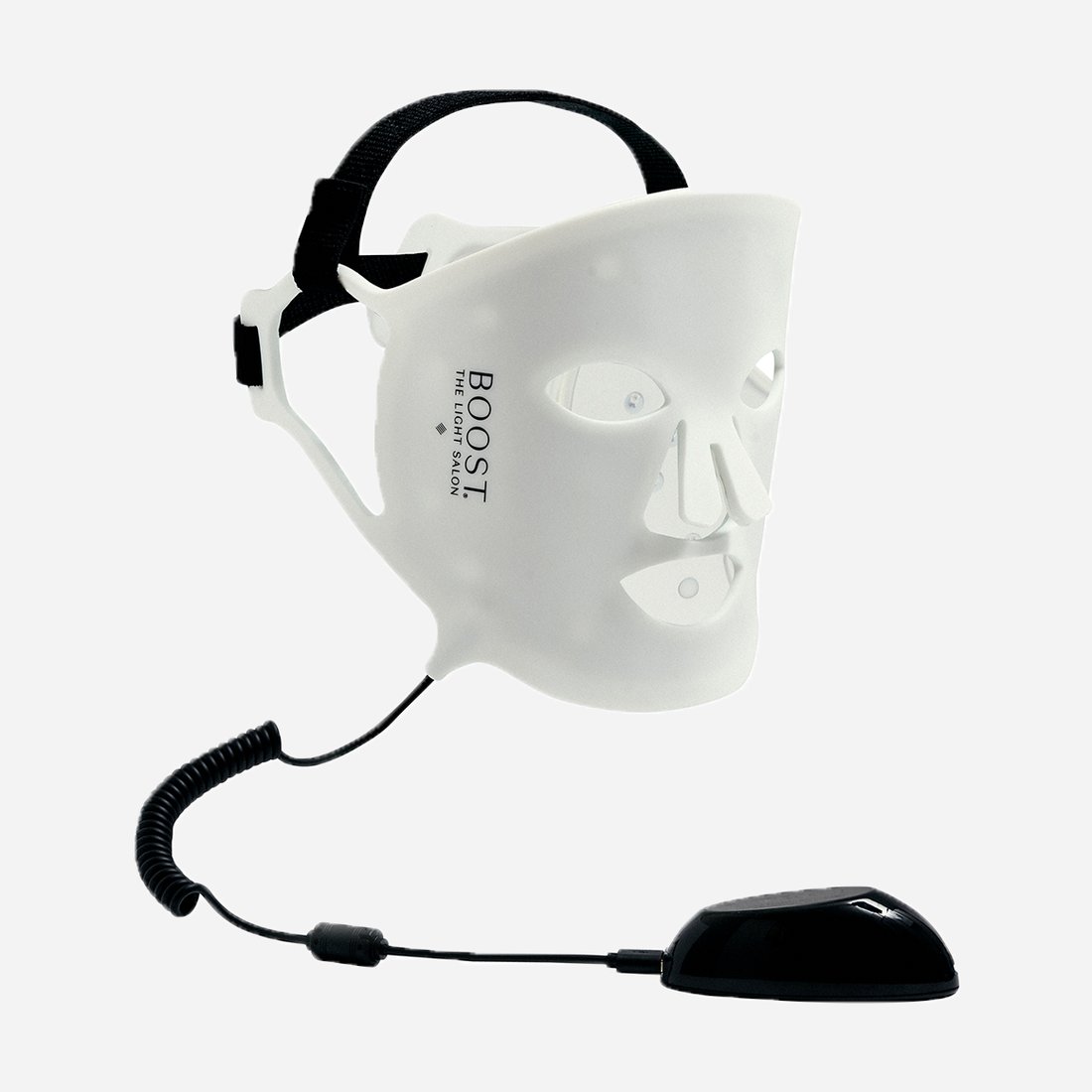 The Light Salon
Boost LED Mask
$495, thesleepcode.com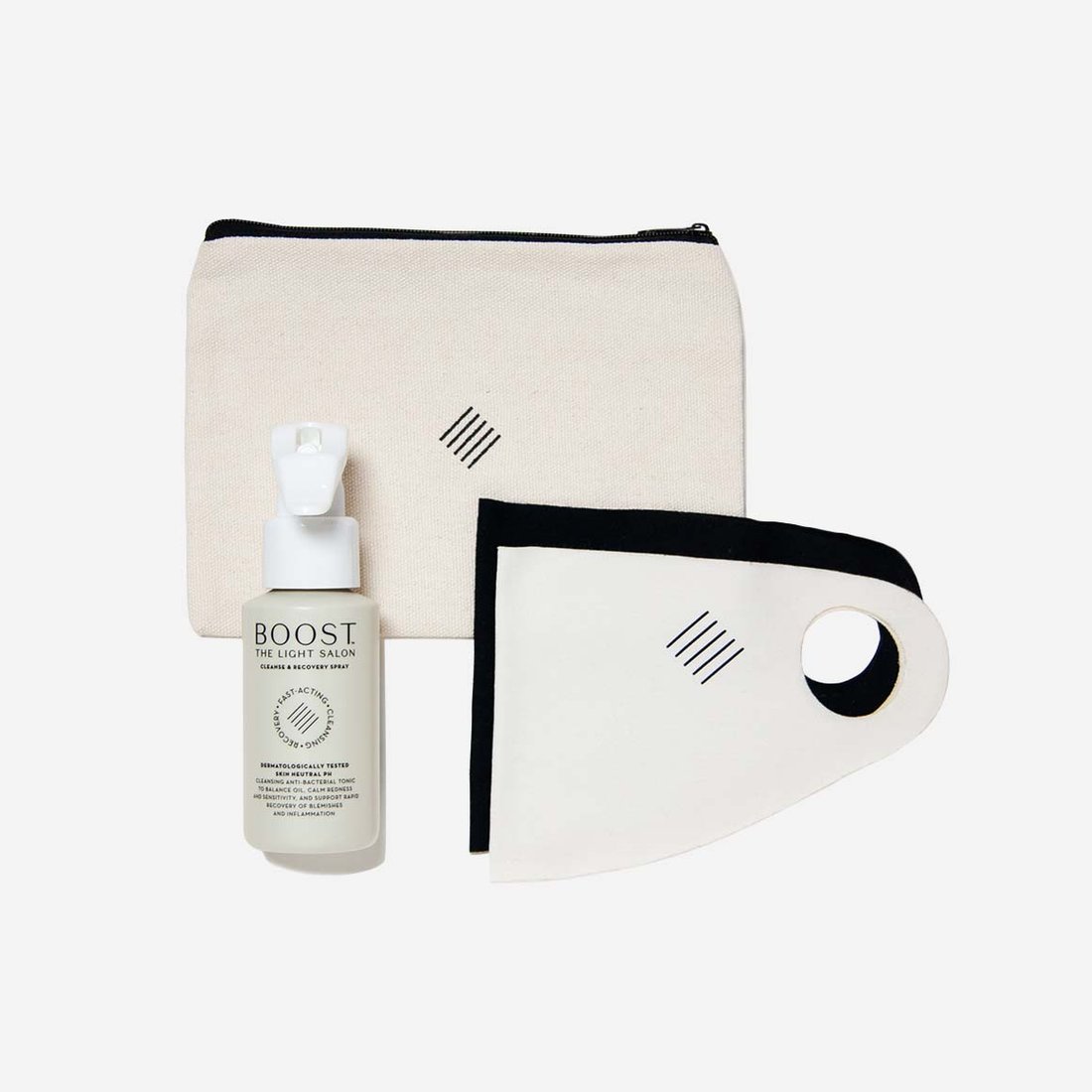 The Light Salon
Antimicrobial Mask & Skin Repair Set
$68, thesleepcode.com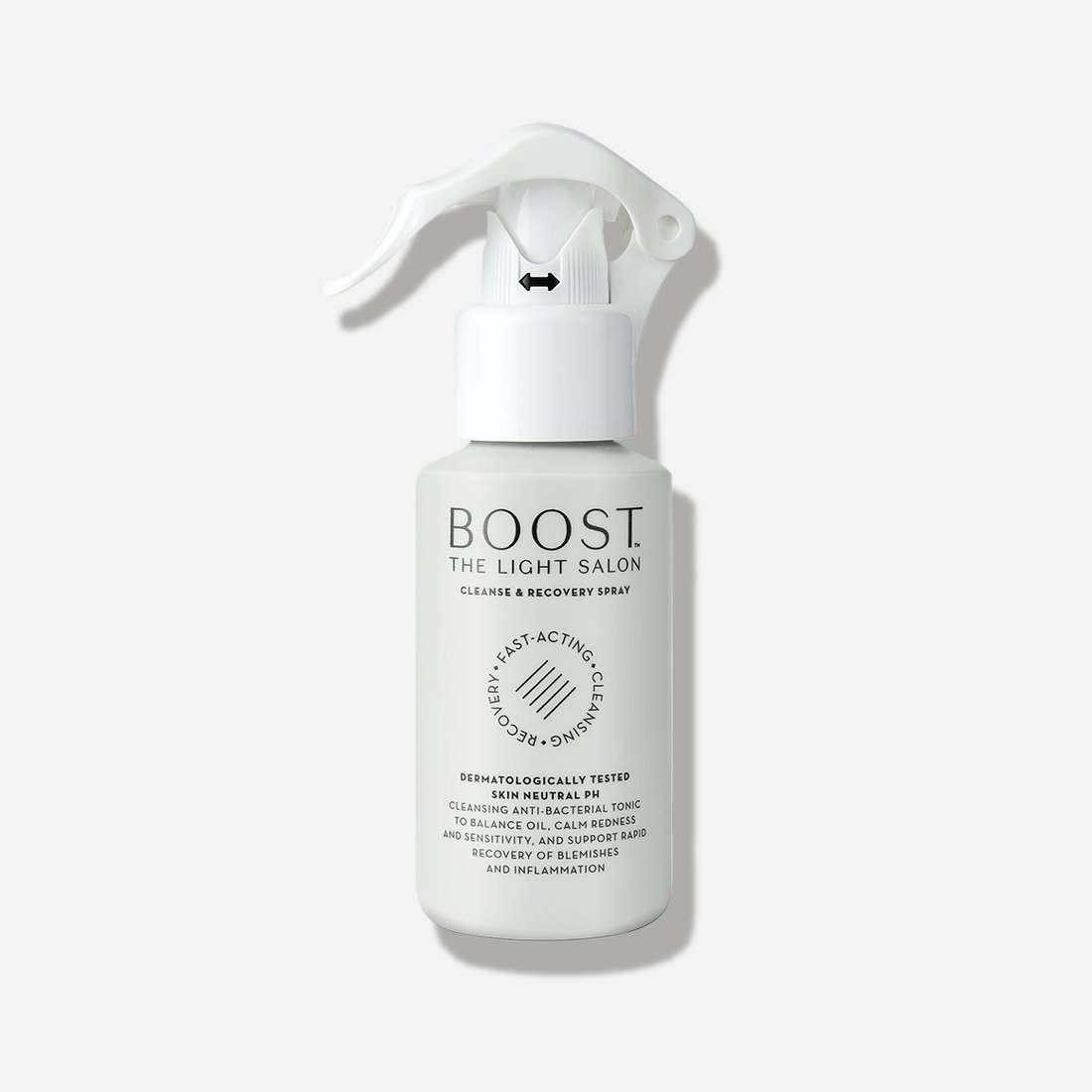 The Light Salon
Boost Cleanse & Recovery Spray
$24, thesleepcode.com
RAPID FIRE ROUND:
Do you have a bedtime ritual?
LF: The evening goes so quickly, so we tend to potter or work until 9.30ish and finish the day with an episode of something we're watching, followed by a little read if it's not too late. 
HM: No devices 2hours before bed, I'm such a light sleeper it has a really bad effect on my sleep if I don't do this. Always a few pages of a book, but sometimes I can't get past 1 page!
What do you wear to bed?
LF: A selection of (almost vintage) M&S petticoat nightdresses. I've bought so many over the years, from my early twenties, and wear them in bed and under dresses. 
HM: A cotton nightie or pyjamas – with detailing like a frilly edge or embroidery. I'm a huge fan of 1950s Hollywood and I like to wear nightwear that looks good in the day too, so it feels like a night-time outfit.
What is on your bedside table?
LF: A selection of books, magnesium and rhodiola rosea tablets, my Boost Face Mask and Body Patch. I love a bedtime Boost on my face and body – whilst we're watching our episode before bed. Ben, my husband, particularly loves to use the Patch on his elbows.
 HM: A lamp, candle, a stack of books that I can never get through, a Copper water cup (I read recently this is a really good way to drink your water) and magnolia rhodiola tablets (calming and de-stressing). My Boosts are inside my bedside table for easy retrieval in the morning. My ritual is to use my Boost before I step out of bed and do anything else.
Do you have any recurring dreams?
LF: I don't have recurring dreams but sometimes I can dream, be woken (by a sleepy child) and go back into the same dream. 
HM: It really depends on my state of mind. Sometimes it can be that I'm on an aeroplane that can't take-off, so it just keeps driving down smaller and smaller streets. Often if I'm laughing in my dreams I wake myself laughing, which is such a good feeling.
Are you reading or watching anything good at the moment?
LF: I love reading with Miller before bed and we've just finished When Stars are Scattered by Victoria Jamieson and Omar Mohamed – a true story about two young brothers living in a Kenyan refugee camp, which is both heart wrenching and heart-warming in equal amounts and encourages good pre-bedtime conversations.
HM: I've just finished Anya Hindmarch's autobiography. Whilst her business story is so different from ours, her notion of 'the triangle of pain' rang true. It's really comforting to know that hurdles are commonplace in business. My husband is a huge music fan so we've been loving some of the recent music documentaries on Apple TV and Disney+, from 1972 (the year that changed music) and recently Paul McCartney's 3, 2, 1 taking producer Rick Rubin through his inspiration behind his songs. What a genius!
Which scent makes you think of bedtime?
LF: Lavender. I've used Bloom and Blossoms pillow spray on all our pillows for a number of years. 
HM: My aromatherapy associates relax diffuser.
What are some nighttime items you cannot live without?
LF: Two large and comfy pillows! I lay one across my forehead and eyes if I'm finding it hard to sleep – the pressure helps calm my busy brain. We also take our magnesium every night without fail.
HM: My huge comfy bed, large hotel pillows and top quality bedlinen. It's just the two of us (my husband and I), but we have an emperor bed. Whilst we don't have our own children, we have many others, who when they come to stay, join us, and it's the greatest feeling.
What is your guilty pleasure?!
LF: It feels like forever since I've done this, but an afternoon cinema trip is one of my favourite pleasures – particularly a European love story! And a disco nap. If we have a planned evening out and Miller is at a sleep-over with friends, a little nap before getting ready feels like pure indulgence.
HM: Working from bed. On those days when the weather is too miserable to face and there are no meetings, I love to stay in bed all day and work. I find it both comforting and really efficient– less wandering round, distracting myself. It's focused and I'm so relaxed, so it's a really good time to plan. 
How do you engage in self-care?
LF: Self-care for me centres around the food we eat. Mealtimes, regardless of whether it's just us, or with extended family and friends, are one of my most enjoyable moments and good food and happy mealtimes are very good for my soul. 
HM: A few years ago we bought what we thought was going to be a weekend cottage near the sea. It's turned out to be our home. We gave up the city and moved here. The garden looks out to a river and fields. We have close friends no more than a few streets away, and friends who have become family just a few doors away. This close community, regular walks to the beach (2hr round trips) and sea-swims are vital. Plus laughter. I was told recently that laughter and being surrounded by those you love is one of the best things for your immunity. I laugh a lot. I also cry a lot, but happy tears.
What do you consider the single most important thing for a good night's sleep?
LF: Going to sleep with a happy or calm mind. I used to check my work emails before bed, which was such a bad habit as your mind is then occupied with thoughts, that are not always happy!
HM: Not looking at emails or working late. It knocks my sleep right out. I start my day from the moment I've woken up, even whilst I'm wearing my Boost, so I try hard to have very few late nights of working. I was in the advertising industry before founding The Light Salon, so I'd had 20 years of punishing long days and late nights.
Did you have a bedtime routine growing up?
LF: Bath, tickles, cuddles, and stories, and we do the same bedtime routine now but with a meditation story added to fall asleep to. 
HM: Always a bath before bed. My Mum would warm my pyjamas on the boiler, I would sit on my Dad's knee and he would tickle my back whilst I was drying. I'm sure this didn't happen every night, but this is my standout memory. Warmth, care, love.
What was your favourite childhood bedtime story?
LF: The Beatrix Potter Series and Rupert the Bear, which I particularly loved because they were my mum's books when she was a child.
HM: The Brambly Hedge series.
What is your skincare and beauty routine like? Do you have any holy grail products?
LF: In addition to LED, spf and a really good cleanser. I never truly appreciated the importance of cleansing in my youth and would use anything on my skin because I thought you just apply and wash off! However, we all know preparation is pretty much the most important step of anything we do! I also LOVE our Cleanse and Recovery, both the ease of use and results, and literally spray everything with it! Newly pierced earrings, grazes, spots – you name it. Miller's often dodging the spray mist as she passes me!
HM: Yes, LED. I can't live without it. Both Laura and I laugh that we are so low-maintenance, but demanding in that whatever we use needs to be good quality, effective, efficient and convenient. I love LED because it calms, nourishes and strengthens both my skin and my mood. I don't know anything else that works like this, on both the inside and outside.
How would you choose to spend one hour of free time?
LF: I love a walk and a phone call. My free time is quite limited, so a walk and chat are a real treat. Or a quick pop to our local shops on my own!
HM: Walking, I love walking. It frees my mind entirely, even if it starts off busily trying to rearrange my thoughts. That hour will benefit me far more than sitting and watching an hour of TV.
If you could choose a song to wake up to every morning, what would it be?
LF: "Good Morning," from Singing in the Rain. We've been singing our own "Good Morning" version since Miller was a baby.
HM: "Woke Up Laughing," by Robert Palmer.