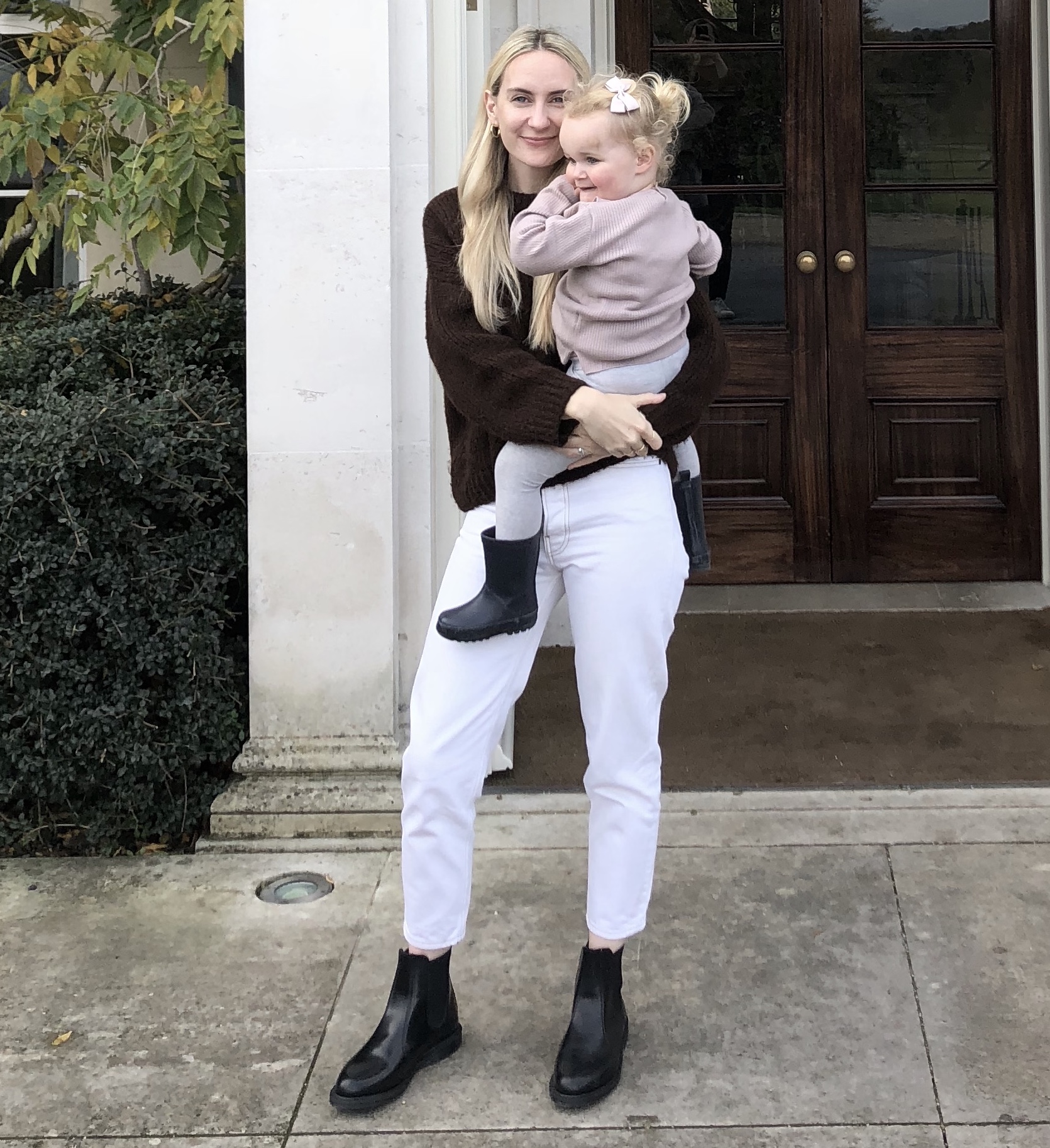 Meet Barbara McMillan of HONNA
We're happy to introduce HONNA, the chicest new sleepwear sets from across the pond. Meet Barbara McMillan, Honna's designer and a London based fashion stylist. She talks starting the brand, her own sleep rituals and being a entrepreneur and mum.
Tell us about the inspiration behind Honna? Did you see a gap in the market in sleepwear?
I've always loved sleepwear, specifically striped pyjamas. Then, I was at home on maternity leave practically living in sleepwear, but all of my favourite pairs I'd bought over the years were silk and I was hesitant to wear them. Dry cleaning regularly just wasn't an option. I kept thinking I wanted something that felt stylish but that I wouldn't be precious about. There is no doubt that there are some really incredible sleepwear brands out there – I shop and wear so many styles from some wonderful brands – I just felt that I wanted something really classic, a striped pyjama that felt a bit premium but I could wear and wash. I didn't want that baggy, oversized mens cut but I wanted something close to the oversized fit, that still felt chic. After a lot of talking about it, my husband finally just told me it's really now or never and I should consider creating my own sleepwear brand and it just went from there.
What's the meaning behind the name Honna?
Deciding on a name was extremely difficult and in the end I named HONNA after my daughter (her middle name) and the London area I lived in at the time where I came up with the idea.
Especially with your background as a fashion stylist and writer, where do you see trends in sleepwear moving?
I think there's been a real shift in how we use sleepwear. Perhaps lockdown has encouraged us all to embrace the smaller daily joys and instead of sleepwear being an afterthought, now it's an area of our wardrobe that gets more attention. I also can see a real trend for sleepwear that doubles up as daywear. That's not something I'm specifically focusing on for HONNA right now, as our main aim is to create the most lightweight, comfortable pieces specifically for bed, rather than to be worn out and about. But as a consumer, I can relate to the appeal of sleepwear being an extension of our wardrobes.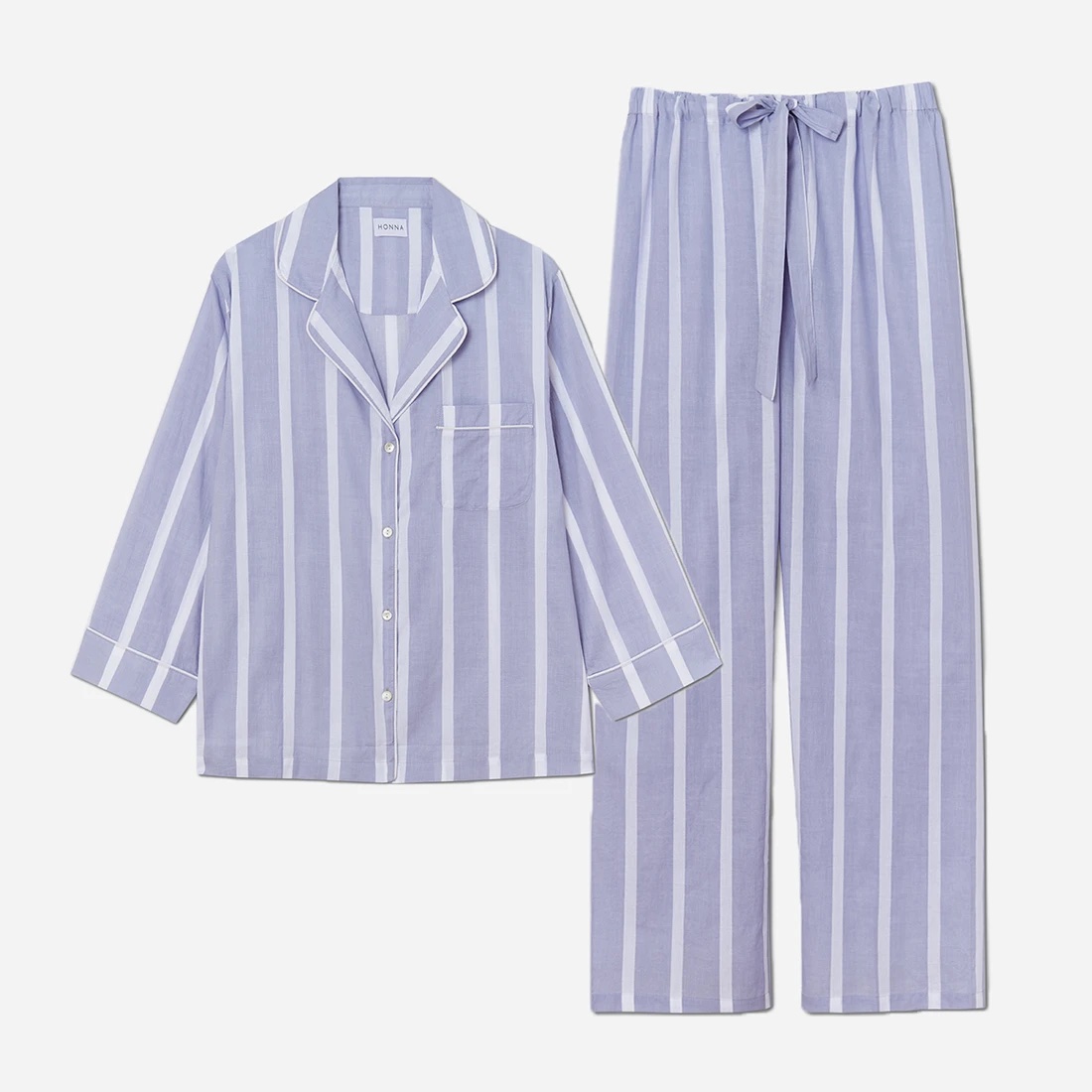 HONNA LONDON
PYJAMA SET
$149, thesleepcode.com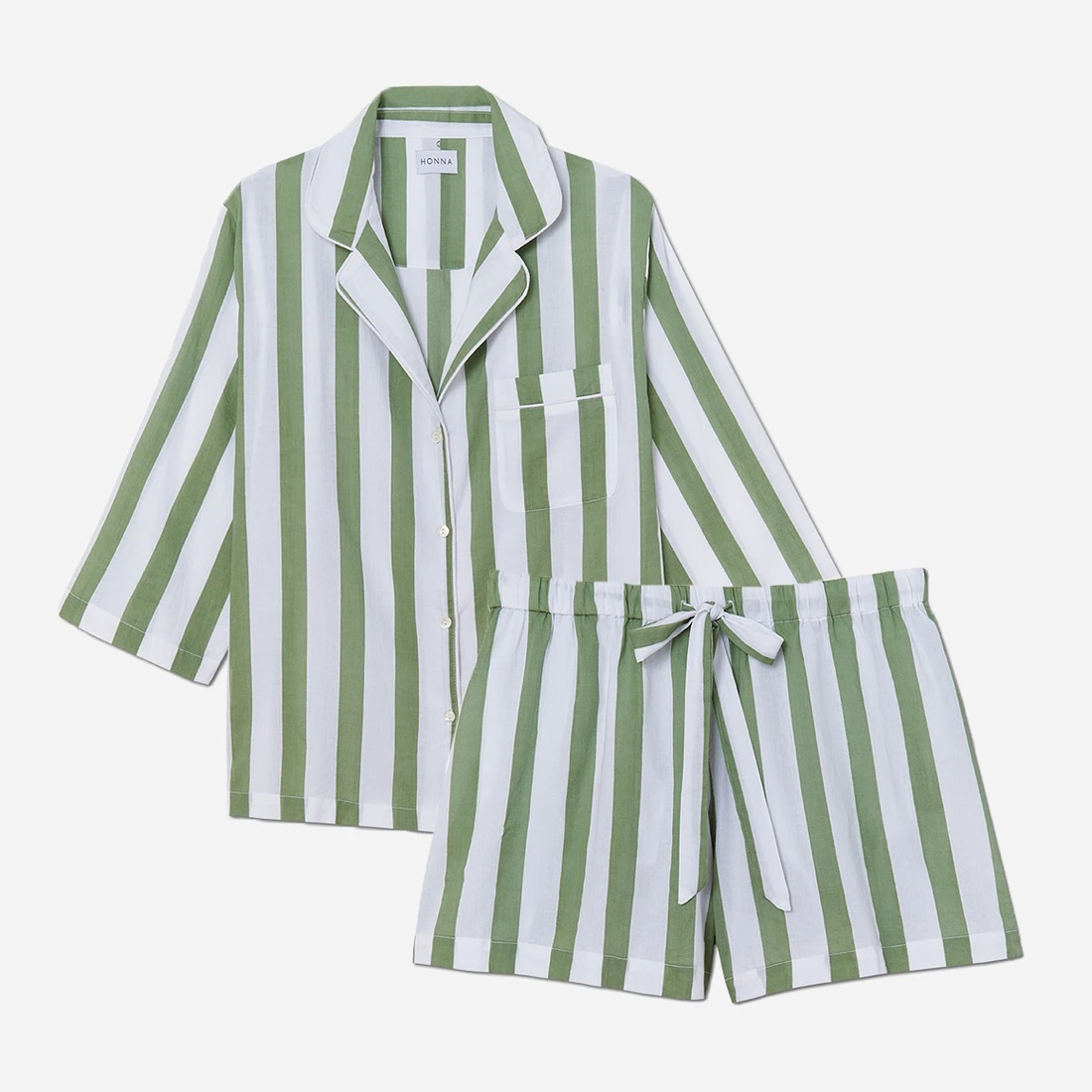 HONNA LONDON SHORT PYJAMA SET
SHORT PYJAMA SET
$129, thesleepcode.com
What are some particularly English sleep habits or nightly rituals?
The only thing I can really say is that every friend or family member will end and start the day with a cup of English Breakfast tea. 
How do you think the pandemic has affected the sleepwear we choose and how and when we wear it?
Since the beginning of the pandemic we have definitely seen a steady rise in sales, in the UK but also internationally, so sleepwear has definitely become more of a focus for consumers. If focusing on what we wear to bed  is on the rise, then focusing on sleep and a better environment to sleep in will undoubtedly be a result of that. This can only be a good thing for our wellbeing and our health.  
How have you balanced and scheduled running a business and your home/personal life during the pandemic? How does it compare to your schedule before it?
As a mum of two running a start-up business, there is always going to be a lot to juggle. But It's definitely become more challenging during the pandemic. I launched HONNA when I was seven months pregnant with my second child so it was hectic from the start. I found I had no boundaries during the pandemic, where before I was better at being entirely present when I was home, now as I'm always here, work would be all consuming and I felt like I was never really having a break. So in January I decided to remove emails from my phone so now when I'm 'finished' for the day, I won't read an email or something that might distract me from spending time with my family until I'm back at my desk. I check first thing in the morning and then just before 7pm, which is now when I switch off. Boundaries are so important so I really try to stick to a 7pm cut-off. But with a start-up business that is optimistic, but I am trying.
The most important or useful things you've learned from starting your own business two years ago?
To just take things one thing at a time. It can feel overwhelming when you're starting a business, especially when you're doing a lot of new things and essentially working within an entirely new industry. I always keep it simple and do one thing at a time and believe that it will all come together. I would also say the best advice I was given is to understand your strengths and your weaknesses and to know when to ask for help. I've reached out to so many people for help and advice, some I knew, others I had never met before, and I was, and still am, overwhelmed with how kind and helpful people are. It feels like a real community on instagram for female-founded businesses, it's great for business and connecting with your customers, but also incredible for meeting other entrepreneurs.
MOTHER'S DAY SPECIAL ROUND:
What's the greatest lesson your own mother taught you about wellness or beauty?
My mum has always taken great care of her skin and she's now turning sixty and has barely any wrinkles. From an early age she taught me the importance of wearing spf every single day, rain or shine, and to always apply moisturiser day and night.
Do you have any nightly habits or rituals now that were inspired by your mom?
My mum always wore an eye mask which I used to find hilarious growing up, so now she finds it highly amusing I rely on them.  We both really value sleep and how important it is for our health and the benefits of great sleep, but we also both suffer from occasional insomnia so we do both swear by eye masks and lavender sleep aids.
How did becoming a mother affect your wellness and beauty habits?
After my first pregnancy I felt like a greyer version of myself. It took a long time for me to realise that I wasn't looking after my skin, I had completely neglected my beauty routine and I wasn't drinking enough water. Now, I take time every morning and evening, no matter how tired I am to take care of my skin even if that is a quick double cleanse, and I will apply a 10 minute mask once a week at the very least.
What do you want for Mother's Day? What will you be giving? 
I always ask for a flower subscription, flowers always make me smile but I rarely treat myself, and a subscription is such a great idea. Or a lovely candle. I'd settle for coffee and toast in bed, though.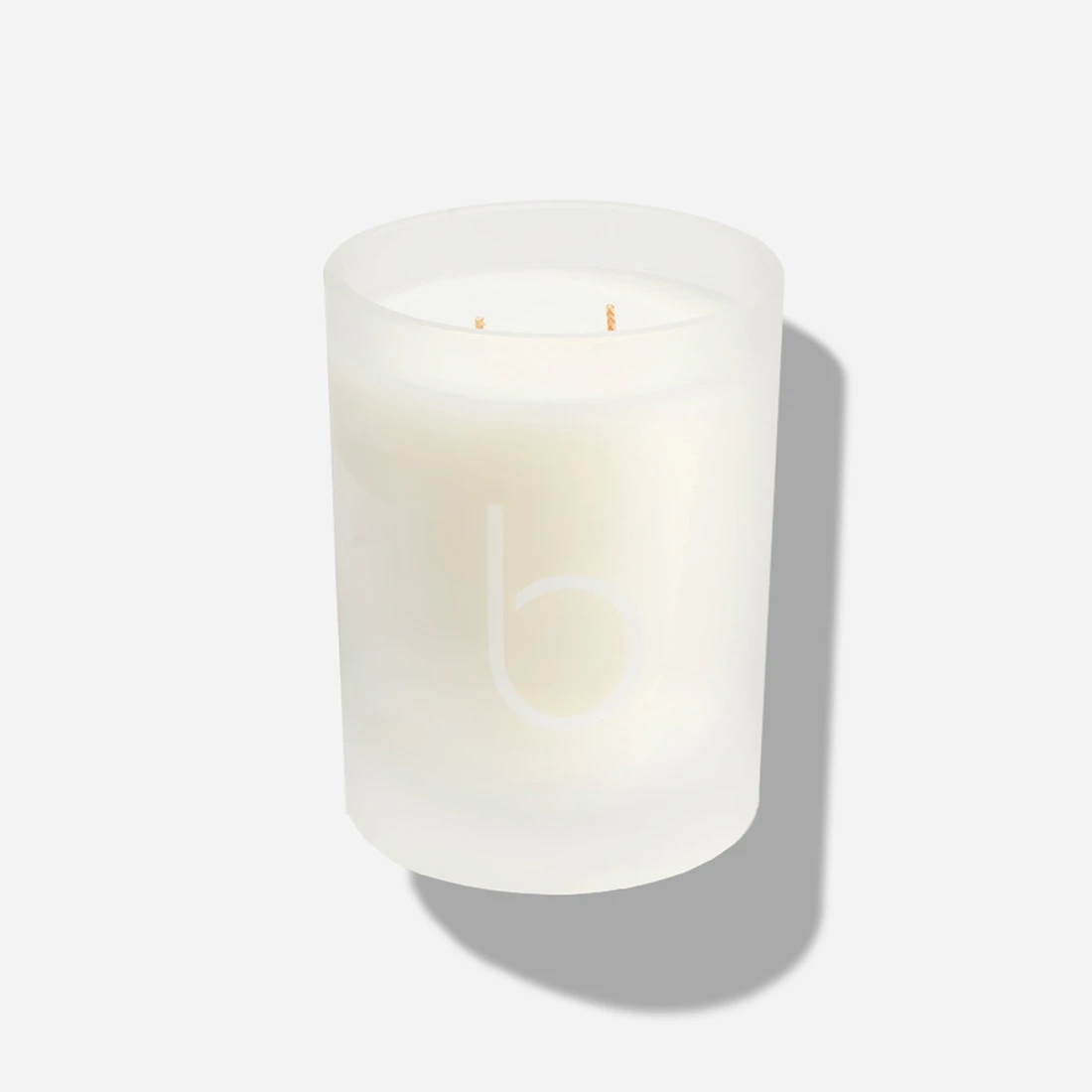 BAMFORD
ROSEMARY DOUBLE WICK CANDLE
$125, thesleepcode.com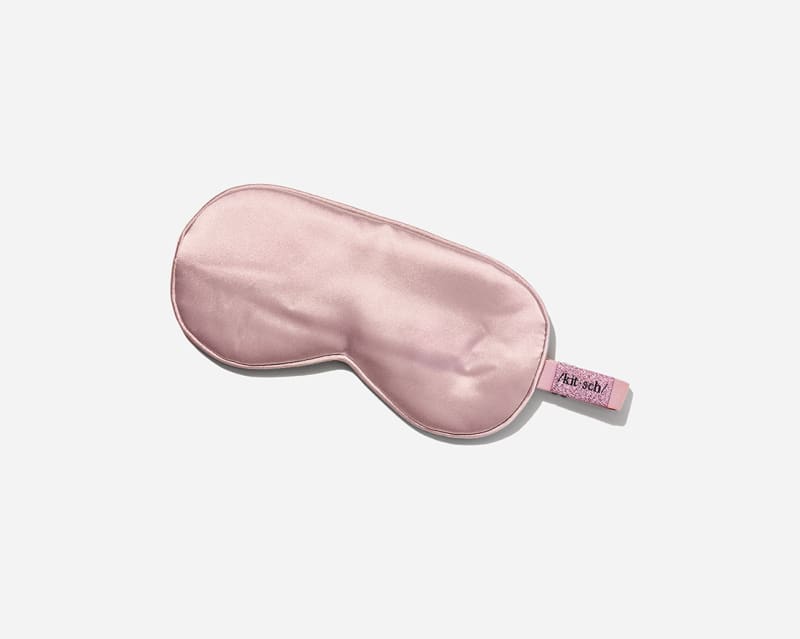 KITSCH
SATIN EYE MASK
$16, thesleepcode.com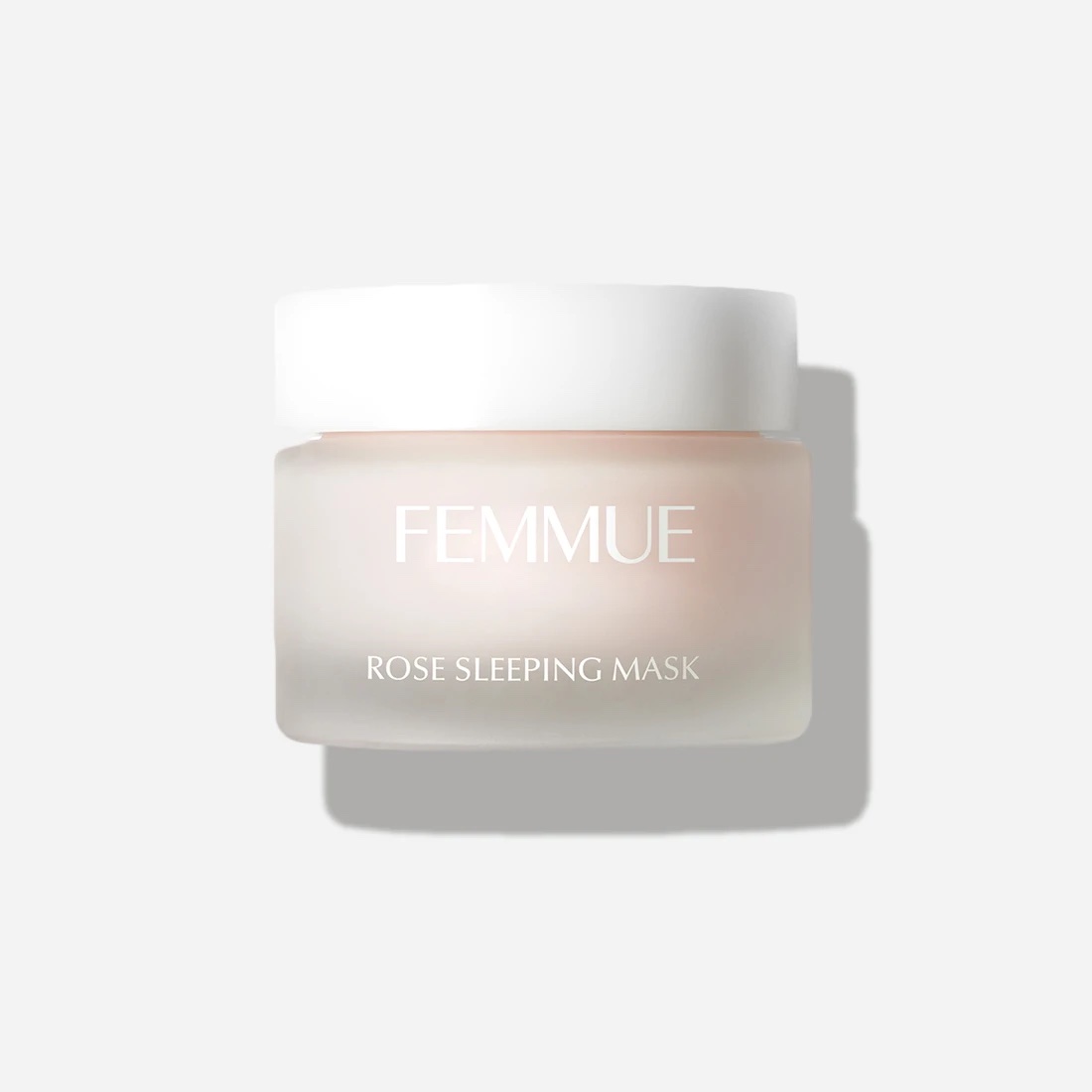 FEMMUE
ROSE SLEEPING MASK
$42, thesleepcode.com
RAPID FIRE QUESTIONS:
Do you have a bedtime ritual?
Hot bath, pyjamas, ginger or mint tea, phone away, bed by 10pm.
What do you wear to bed?
Always a pyjama shirt with shorts or a nightshirt.
What is on your bedside table?
I'm such a minimalist so only my lamp, sleep spray (This Works) and book, currently The Times Great Events.
Do you have any recurring dreams?
I very rarely dream actually, so I haven't had a recurring dream.
Are you reading or watching anything good at the moment?
I just finished Ozark which is not usually my kind of series but I was completely gripped.
Which scent makes you think of bedtime?
I've been using lavender since before I can remember. In night oil form, just a few drops on the pillow or via a sleep spray, even in eye masks. It's so calming.
What are some nighttime items you cannot live without?
I cannot go to sleep without an eye mask. Our first tiny London flat had a streetlight and bus stop directly outside our bedroom so I started using an eye mask to block out light and now I'm hooked. I once travelled without one and had to tie a pair of leggings around my head, not a great look but I can't sleep without one. My absolute favorite is Holistic Silk, I have about five I've bought over the years, they are expensive but they really last. 
What is your guilty pleasure?!
A bit of Reality TV.
How do you engage in self-care?
It's not easy with two children under 5 and running my own business from home, but I will always try and have a hot bath and use a few drops of oil, my mother-in-law keeps me stocked up with Bamford Geranium Oil, and I light what I call a 'posh' candle, something I used to rarely do, saving them for best and now I've realised it's pointless never lighting them and I totally embrace these little luxuries.
What do you consider the single most important thing for a good night's sleep?
I am a big believer in not having a tv in your room or scrolling aimlessly on your device before bed. Slowing down your mind, for me, is the key to a good night's sleep.
Did you have a bedtime routine growing up?
No not really, but I would always get into my pyjamas as soon as I came in from school. Even now during lockdown, come 6/7pm, I have to change into sleepwear or something comfortable to signal the evening or I cannot switch off. I simply have to be super comfortable when I'm at home. You would never catch me in jeans unless I'm leaving the house.
What was your favourite childhood bedtime story?
The Trip to Panama. I loved it and my mum has just brought it for my 4-year-old daughter.
What is your skincare and beauty routine like? Do you have any holy grail products?
I don't believe you need to spend a fortune to get a good routine. I've had sensitive skin for years and I swear by Cetaphil's face wash to cleanse. I've also started using Lixirskin Vitamin C Paste to my routine. I move between moisturisers, at the moment I'm using Glossier Priming Moisturizer Rich. The Ordinary salicylic Alic 2% masque once a week is a game-changer for me and it's such a great price point.
How would you choose to spend one hour of free time?
I used to find walking our dog something I would rush through, scrolling through emails as I went and frantically replying to unanswered WhatsApps. Now, I leave my phone behind and try and be as present as possible. We live in the countryside surrounded by fields and I used to barely look up. Now it's how I reset. It's such a simple pleasure but it is the one hour for myself every day that I am not distracted by work emails or children. 
If you could choose a song to wake up to every morning, what would it be?
Stevie Nicks Edge of Seventeen never fails to lift my mood.