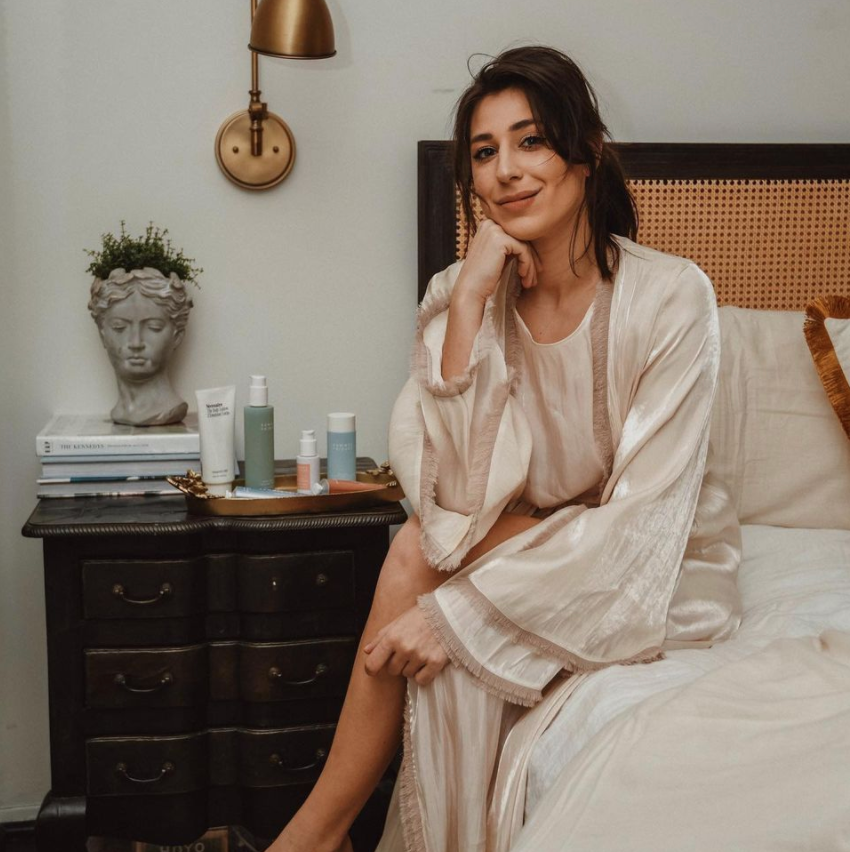 Meet Andrea Pion Pierre, Blogger & Self-Proclaimed Lover of Bedtime
Meet the lifestyle blogger behind A Slice O' Pi, Andrea Pion Pierre. This stylish New York mom loves bedtime– it's her self-proclaimed "favorite time of the day"– and engaging in small acts of self-care. She shares with us her nighttime routine, favorite skincare products, and more.
Do you have a bedtime ritual?
Yes, bedtime is my favorite time of the day!
What do you wear to bed?
There is nothing I love more than wearing a cute pair of pajamas to bed. Specifically matching sets or an oversized button up.
What is on your bedside table?
My bedside table has my carafe and glass filled with fresh water, Aesop hand cream, a hydrating overnight sleep mask and the LANEIGE lip sleeping mask.
Do you have any recurring dreams?
No, I honestly don't, none that I remember anyway!
Are you reading or watching anything good at the moment?
Yes! Been obsessed with watching The Handmaids Tale and Mare of Easttown. I am also currently reading Rules of Civility (it's such a good book, highly recommend!)
Which scent makes you think of bedtime?
I always light my Diptyque candle before bed, they have the absolute best scents!
What are some nighttime items you cannot live without?
My kids! Every night we cuddle while I read them books before bed.
What is your guilty pleasure?!
My guilty pleasure would have to be dark chocolate or a crisp white wine.
How do you engage in self-care?
I try to find time to walk a few times a week! I also think my morning coffee is so therapeutic. Oh and buying myself flowers!!!
What do you consider the single most important thing for a good night's sleep?
Black out blinds and melatonin! 
Did you have a bedtime routine growing up?
Yes, I ate a bowl of cereal every night before bed.  I miss the days where I could carb load before bed and then get a full night's sleep!
What was your favourite childhood bedtime story?
"I Love You Forever" by Robert Munsch! It truly has the sweetest message and makes me sentimental now that I have my own kids. 
What is your skincare and beauty routine like? Do you have any holy grail products?
Cetaphil is truly my go to for all skincare related products! I also love Summer Fridays and Drunk Elephant's face masks. 
How would you choose to spend one hour of free time?
There is nothing I love more than a good, long shower!
If you could choose a song to wake up to every morning, what would it be?
Definitely Come and Get Your Love by Redbone.  This was also my wedding song!
Andrea's Edit