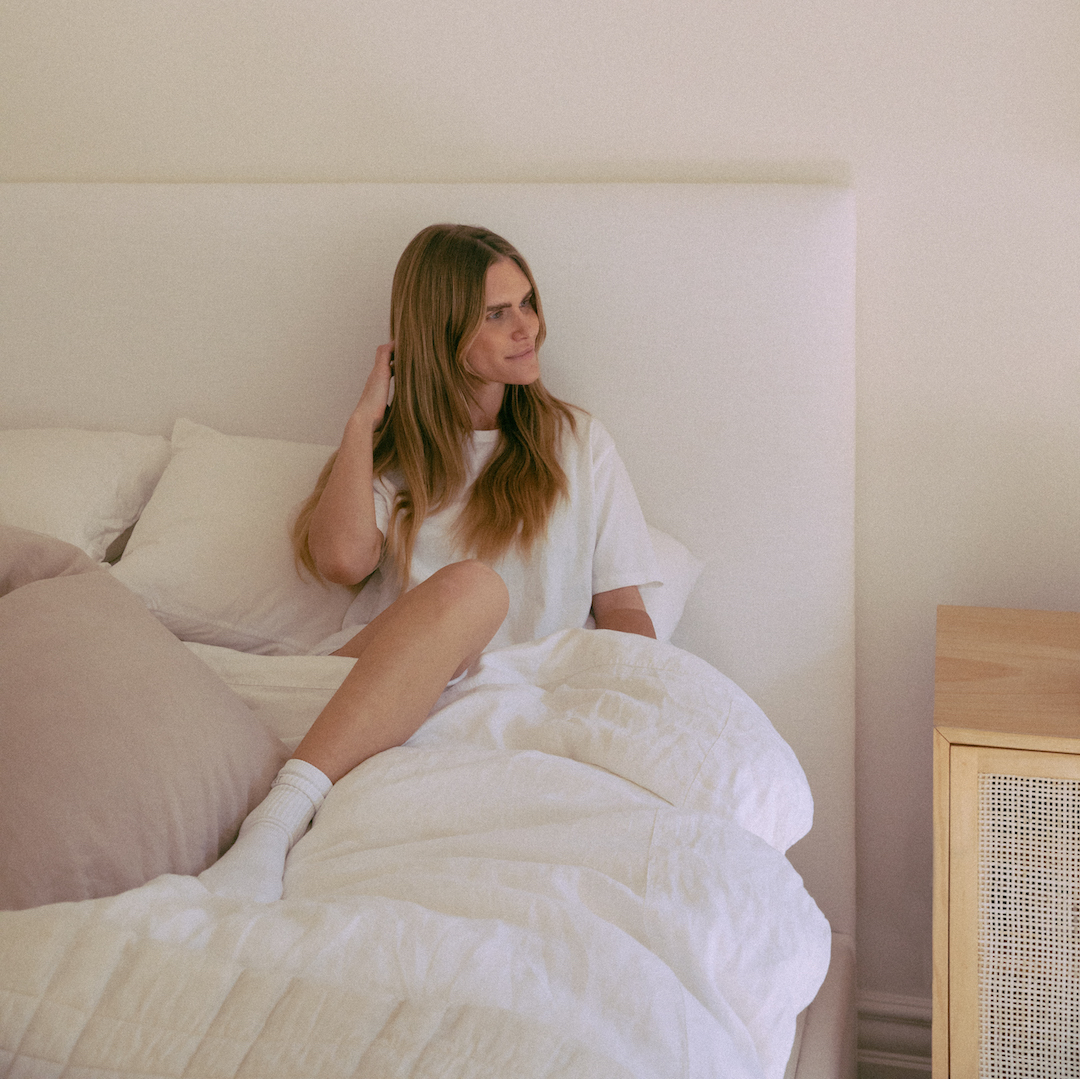 Lauren Scruggs Kennedy Knows How To Wind Down
Lauren Scruggs Kennedy knows a thing or two about wellness. A New York Times bestselling author, lifestyle blogger, and entrepreneur, she is always discovering new ways to live a healthy and mindful life. Her bedtime routine is no different; from meditation to journaling, Lauren takes us through her key ingredients to a good night's sleep.
Do you have a bedtime ritual?
Jase and I get in bed and watch moving art, a movie, or a meditation show on Netflix!
What do you wear to bed?
Generally a PJ set, but sometimes just a t-shirt!
What is on your bedside table?
A photo of Jase and I, Equilibria CBD cream, 3 books, and a lamp.
Do you have any recurring dreams?
I don't 🙂
Are you reading or watching anything good at the moment?
The Bachelorette!
Which scent makes you think of bedtime?
Lavender or chamomile.
What are some nighttime items you cannot live without?
Heavy lip butter, my sound machine, nourishing skincare, and a cozy bed!
What is your guilty pleasure?!
Online shopping!
How do you engage in self-care?
I try to prioritize self-care appointments, such as nails, massages, and facials, and at home – I aim to exercise, infrared sauna, take baths, take care of my skin, eat healthy, and spend time outside!
What do you consider the single most important thing for a good night's sleep?
A settled mind; I use Equilibria CBD and magnesium to support this.
Did you have a bedtime routine growing up?
In my younger years, reading a book or making up a story, and then it transitioned to journaling and reading before bed.
What was your favourite childhood bedtime story?
I can't remember but I know my parents would remember!
What is your skincare and beauty routine like? Do you have any holy grail products?
I try so many because I am so passionate about clean skincare, but a few of my favorite brands are Juice Beauty, Mara, Follain, and Josh Rosebrook.
How would you choose to spend one hour of free time?
Either time outside, time with my husband, or exploring on Pinterest or Etsy.
If you could choose a song to wake up to every morning, what would it be?
Hm, I think Sinking Deep by Hillsong Young and Free.
Lauren's Edit