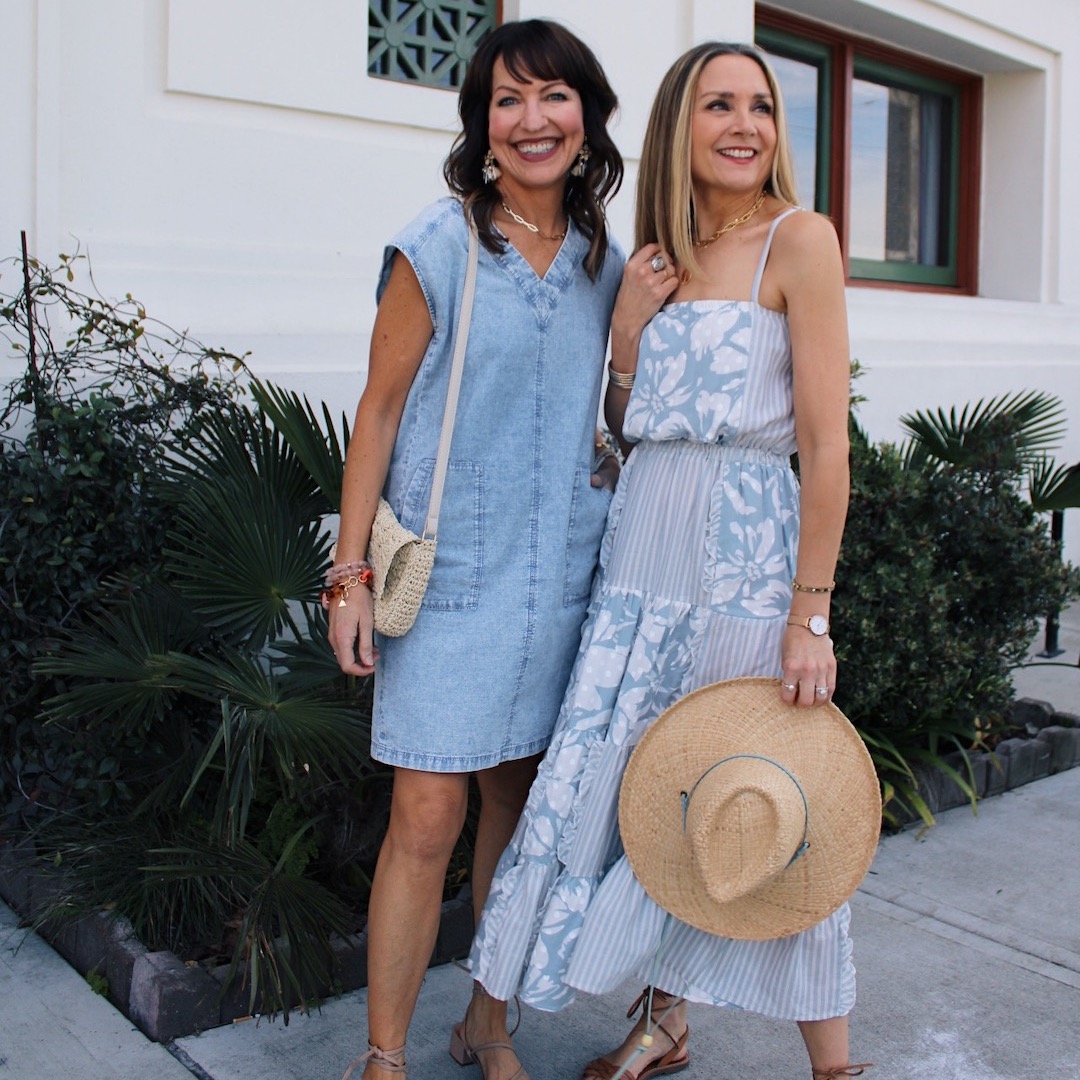 How These Night Owls Wind Down: Meet Julie & Krista of Last Seen Wearing
Julie Powell & Krista Olufson are bloggers, stylists, and self-professed night owls. We chatted with the ladies of Last Seen Wearing about what helps them wind down for restful ZZZs. Plus, they share their style advice for bedtime and beyond!
Do you have a bedtime ritual?
Julie: Every night before bed, no matter how late, I always wash my face and apply a series of skincare products: toner, exfoliator, retinol, serums, moisturizer. Then I pop on my night guard. The one night I didn't wear it, I chipped my front tooth, so now I wear it religiously! If I think I might have difficulty falling asleep, I'll take some melatonin, but otherwise I like to relax with a good book until my eyes start feeling heavy. Finally, I sink my head into two large pillows, say my prayers, and hopefully quickly go to sleep!
Krista: Every night I wash my face and put on my anti-aging skincare products, brush and floss my teeth, and take my supplements. I have struggled with falling asleep off and on my whole life, so I have some things that help me sleep! I wear earplugs, a breathe right strip, and I also tape my lips shut to promote deep, relaxing breathing. Once and awhile I'll listen to a sleep meditation to help me unwind. Lately I've been sleeping much better!
What do you wear to bed?
Julie: My favorite pajama style is a long-sleeved short nightgown, preferably in a soft flannel type of fabric. I wear this style year round except for maybe one week in the summer when Seattle temps reach 100 degrees. My bedroom is really cold!
Krista: I like to wear a two piece set of shorts and a long sleeve top, preferably in a lightweight, breathable material.
What is on your bedside table?
Julie: A lamp, a Philips SmartSleep Wake-up Light that I haven't been using for the last couple of years, a framed embroidery of my family's farm logo that my daughter made for me, and my blue light glasses.
Krista: I have my phone, my glasses, and a photo of my husband.
Are you a night owl or an early bird?
Julie: Definitely a night owl. I never grew out of that childhood state of hating going to bed.
Krista: I tend to be a night owl. I also love getting up early and getting my workout done before my day kicks in. Getting to bed early is a life goal!
Which scent makes you think of bedtime?
Julie: I have absolutely no idea. Maybe the smell of fresh sheets?
Krista: Fresh night air.
Are you reading or watching anything good at the moment?
Julie: My daughter is getting married next month in England so I just watched Four Weddings & A Funeral and another silly British wedding movie that wasn't very good. My husband said no more wedding movies!
Krista: I'm reading a book called, Running With Sherman by Christopher McDougall and I'm watching a series called Stanley Tucci: Finding Italy.
What are some nighttime items you cannot live without?
Julie: I can't live without my contact lens case, face cleanser, face serum, electric toothbrush, and nightguard.
Krista: I can't sleep without my nightguard and my ear plugs. I also wash my face, apply my skincare and brush my teeth every night!
What is your guilty pleasure?
Julie: A Trader Joe's mini ice cream cone after dinner and not being bothered by my screentime report since being on my phone is part of my job.
Krista: Watching the Bachelor and Bachelorette and eating dark chocolate every day.
Are there any health & wellness trends you're interested in trying?
Julie: I would love to have a home sauna for detoxification, plus it sounds relaxing! Recently I've become more dedicated to working out everyday and lifting heavier weights. I'd like to learn more about maximizing results.
Krista: I'm very into health and wellness! I love anything that has to do with new ideas about nutrition and working out. I work out 6 days a week (spin, lifting, yoga) and I eat a plant based diet. I would love to  find out more about intermittent fasting and longevity.
How do you engage in self-care?
Julie: No lack of self-care around here! If anything, I need to make sure I'm caring for others as much as myself. Having a daily quiet time of bible reading and prayer is the best way I've found to bring inner peace while also helping me to have an outward focus.
Krista: I find that being disciplined with my faith and health is the best form of self care. I also love date nights with my husband and social gatherings with good friends!
What is your favorite way to de-stress?
Julie: Having a relaxed day at home, being productive and checking things off my to-do list does wonders for my stress level! Also, since moving my daughter to England, I've become addicted to afternoon tea. A little sweet biscuit and a cup of Yorkshire tea immediately transports me to my happy place!
Krista: I tend to unwind by talking to a friend on the phone or watching TV. I also find that exercise helps me relax and sleep better. The occasional glass of wine helps, too!
Any favorite fashion trends at the moment? Any that you hope are short lived?
Julie: I love the trend of the relaxed, wide-leg pant, whether it's denim or a pleated trouser. It looks so chic with flat sandals and a casual tank or button down shirt. I'd also wear them with heels, a silky cami and an oversized blazer thrown over my shoulders for a chill date night outfit. I keep hearing that low-rise jeans are coming back, and that's definitely something I don't want to stick around.
Krista: I'm loving the statement blouse trend – off the shoulder, puffed sleeves, fun prints, bodysuits, etc. I think I'm ready to say goodbye to crop tops and super high waisted pants.
What do you consider the single most important thing for a good night's sleep?
Julie: Being tired enough to go to sleep and not being wound up from technology or other stimulation.
Krista: Clearing my mind and being able to let go of stressful thoughts, especially about things I can't control.
What was your favourite childhood bedtime story?
Julie: The Many Adventures of Winnie the Pooh.
Krista: Goodnight Moon or Where the Wild Things Are.
What is your skincare routine like? Do you have any holy grail products?
Julie: Cleanser, eye makeup remover, exfoliator lotion, retinol serum, Torricelumn serum, face cream with probiotic yogurt (has done wonders for my adult acne!), and night cream. My holy grail products: Elizabeth Grant Essence of Torricelumn, Paula's Choice 2% BHA or AHA exfoliator gel, Paula's Choice 1% Retinol Treatment and for daytime Paula's Choice Tinted SPF moisturizer is a must.
Krista: Paula's Choice cleanser, toner, retinol serum, Torricelumn serum, Clarins night cream, and lip balm. Holy grail products: Elizabeth Grant Essence of Torricelumn, Paula's Choice .3% retinol + Bakucoil Treatment, Paula's Choice Youth-Extending Daily Hydrating Fluid, Clarins Extra Firming Nuit, and Burt's Bees lip balm.
How would you choose to spend one hour of free time?
Julie: Visiting with a friend either on the phone or over coffee (or tea!) or catching up on my reading.
Krista: Shopping and/or going to happy hour with a friend.
If you could choose a song to wake up to every morning, what would it be?
Julie: Something classical with no words, like "Little Things" by Adrian Berenguer.
Krista: "All Fired Up" by Pat Benatar
Julie's Edit
Krista's Edit