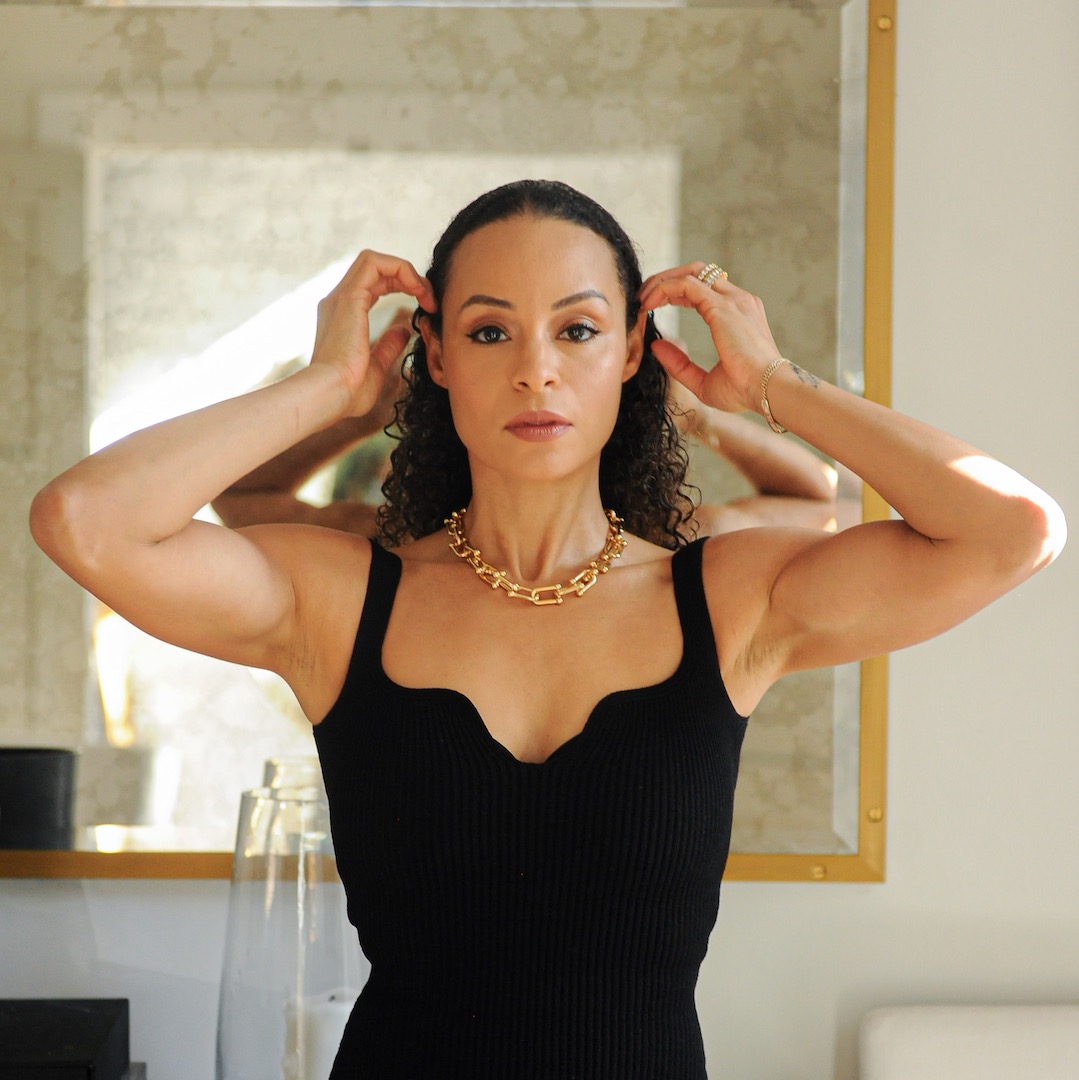 Fashion Blogger Sai De Silva Shares Her Secret to Glowing Skin
Meet Sai De Silva, the New York-based fashion blogger behind Scout The City. This stylish mom shares with us everything about her nighttime routine, from sleepwear to skincare. The secret to her glowing skin? Her admittedly extensive ritual that you won't want to miss!
Do you have a bedtime ritual?
Kind of! After the kids are in bed, I put on my pajamas, take off my makeup and dedicate a good ten to fifteen minutes to skincare. Then, I'll get in bed and read a book or wind down with an episode of a series. I also always journal for 15 minutes to get myself in a good head space before going to sleep.
What do you wear to bed?
It depends on the season. In the winter, I'm all about a cotton or silk pajama set whereas in the summer I love a long nightgown.
What is on your bedside table?
A Byredo candle, hand cream and my book of the moment. It's usually nonfiction and wellness related.
Do you have any recurring dreams?
Thankfully I do not.
Are you reading or watching anything good at the moment?
I know this is kind of weird, but I love reading cookbooks. Most recently, I bought Love Real Food by Kathryne Taylor and it's a great source of vegetarian recipe inspo.
Which scent makes you think of bedtime?
Lavender.
What are some nighttime items you cannot live without?
I'm obsessed with my bedding if that counts! I use Brooklinen sheets and they make my bed feel like cloud 9. I also love Equilibria CBD drops. I take them in between dinner and bedtime and they help me zen out and relax before drifting off.
What is your guilty pleasure?!
Gourmet donuts and red wine. But not together obviously.
How do you engage in self-care?
By moving my body everyday, meditating first thing in the mornings, taking good care of my skin, and eating clean foods. I also think spending time with friends and family and finding things to laugh about is a form of self care.
What do you consider the single most important thing for a good night's sleep?
Leaving any stress from the day outside of the bedroom and going to bed with a positive mindset.
Did you have a bedtime routine growing up?
When I was little, it was bath time and bedtime stories like most kids. As I got older, I tried to stay up as late as I could get away with.
What was your favourite childhood bedtime story?
Goodnight Moon.
What is your skincare and beauty routine like? Do you have any holy grail products?
It's extensive to tell you the truth! Skincare is especially important to me and I use probiotics, toner, essences, serums, moisturizer, SPF and oils on a daily basis. Some of my holy grail products are the Cleau de Peau Beauté Cleanser, Augustines Bader Toner, Amore Pacific Essence and Supergoop Glow Sunscreen. I also am obsessed with Sakara Life's probiotics!
How would you choose to spend one hour of free time?
Either hanging out with my kids in the backyard or treating myself to a massage or facial.
If you could choose a song to wake up to every morning, what would it be?
"Hello" by Lionel Richie. I love that song.