Have you always had an interest in health and wellness?
I was brought up in a culture where taking care of your skin, hair, and body was always of the utmost importance. I always loved it. We grew up surrounded by beautiful nature – we'd make healing tonics, marigold cream, and arnica schnapps, and my Grandmother used to rinse my hair with beer, eggs, or chamomile. It was a two-hour weekly ritual. To this day, I've made sure these traditions stay alive with my family.
How did your relationship with clean beauty begin?
The hotel I inherited from my parents, Hotel Post Bezau, was already a cure hotel (the word spa did not exist in those times). This meant I always knew the importance of health and beauty treatments. When I took over the hotel in 1994, I thought long and hard about how to apply my passion, how I could make a difference. I always knew that spa, beauty, and championing a healthy lifestyle is what I wanted to specialize in. I, therefore, started by bringing a traditional Chinese doctor to the hotel, and step by step I developed a wellness program. In 2003 I completely renovated the spa at Hotel Post Bezau, and this is when my own spa concept and cosmetic line were born.
What was the process of starting your brand like?
In 2003, we launched the brand Susanne Kaufmann with a curated range of 24 skin and body care products. Originally developed exclusively for use in the Susanne Kaufmann Spa at Hotel Post Bezau, the products quickly became a favorite of hotel guests. Since the brand's creation, I have partnered with Ingo Metzler, a pioneer in organic and natural beauty, for all production and manufacturing needs. His plant is located only 15 minutes from Susanne Kaufmann's Bezau headquarters. We are all dedicated to maintaining an eco-friendly production and manufacturing process.
I read that you have a garden where you grow many ingredients for your line! How did your interest in gardening begin?
Yes, I love to garden. The hotel owns a garden spanning 4,000 square meters that is located just opposite the premises, taking the idea of "farm to table" to a whole new level and forming an important part of the hotel's sustainability strategy.
We also have the remarkable garden at Ingo Metzler, our production and manufacture partners. Here we grow some of the finest ingredients in our range, such as rosemary and arnica.
What are some ingredients you continue to come back to time after time?
For me, it is the active ingredients we source in the rich environment of the Bregenzerwald around us. Arnica, Chamomile, Marigold, Lavender and Rosemary to name a few.
The ingredients form our Essence Line feature key ingredients for me too. A major part of alternative medicine is phytotherapy – a gentle form of healing based on the cornerstones of nature, with a focus on plant-based active ingredients made using leaves, seeds, wood, fruit, flower buds, stalks, and roots. They are highly effective in the form of cosmetic products such as creams, lotions, and ointments, and this gave rise to the innovative Essence Line.
Do you have a favorite product from your range?
I swear by our Eye Cream Line A, it's one of my favorite products. I always recommend using an eye cream daily because the first impression of a person is always reflected through their eyes. I sometimes use the Eye Cream Line A as a mask and put a thick layer around my eyes. It is a wonder weapon – you will look fresh and well-rested the next day. A personal tip of mine is to use both the cooling Eye Rescue Stick and the Eye Cream Line A. I apply the Eye Rescue Stick below the eyes and then apply a small amount of Eye Cream Line A to the outer corner of the eye, applying any remaining product to the upper eyelid. The combination of both products counteracts wrinkles caused by dryness and keeps my eyes looking fresh and alert.
Which product of yours is the most beloved by your customers?
For the face, it's the Nutrient Concentrate and for the body, our customers love our Body Butter – both are our bestsellers.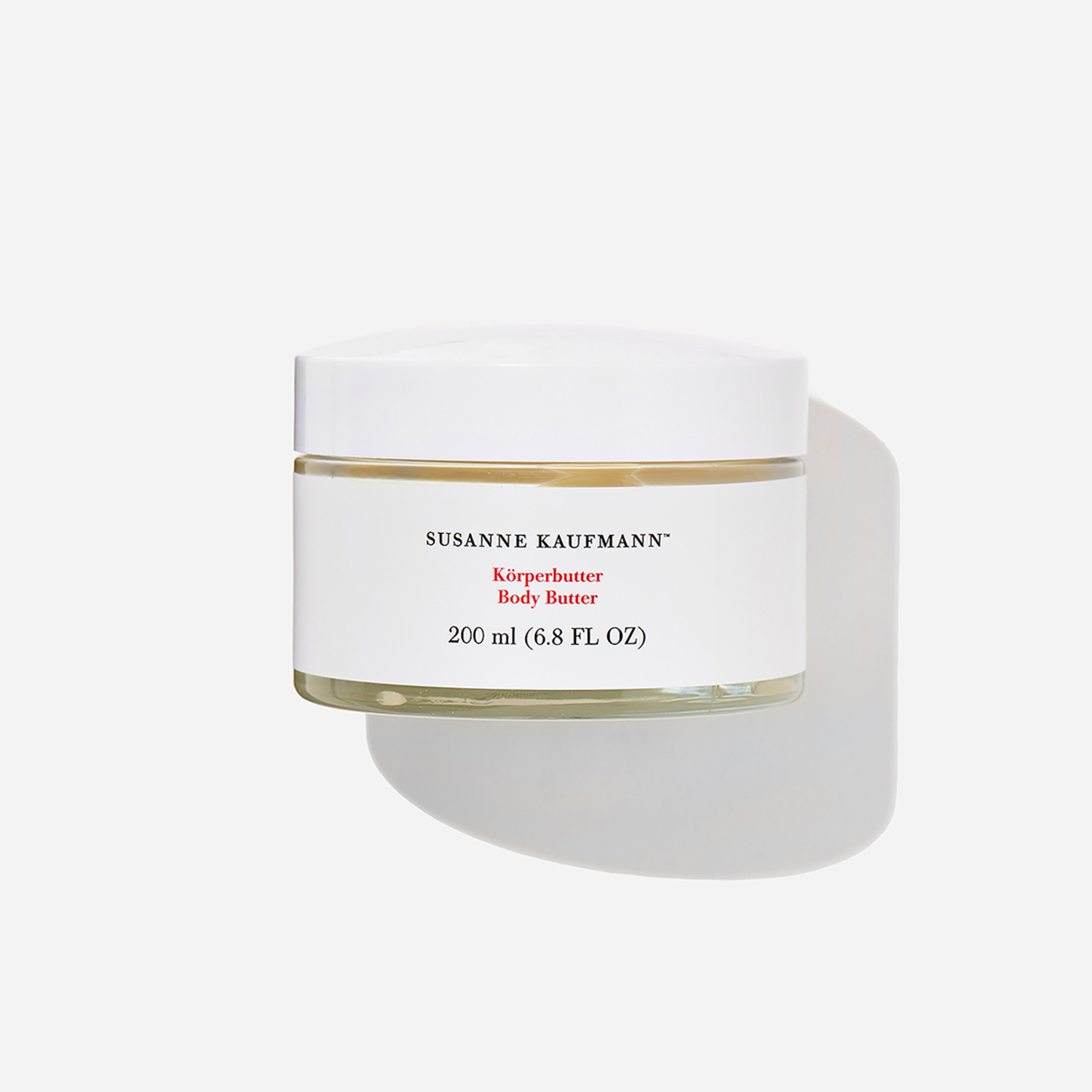 Susanne Kaufmann
Body Butter
$81.00
This rich body butter offers intensive and long-lasting care to rough, chapped skin. Its special formula containing honey and vitamin E absorbs quickly and leaves skin feeling as smooth as velvet. It is particularly suitable for dry skin on knees and elbows, and gentle enough for babies.
I have read that you are interested in traditional Chinese medicine. Do you rely on any practices or treatments?
We integrated the TCM principle of balance and harmony into our treatments and our products, as we believe that everything has to be in balance to work effectively.
A Susanne Kaufmann Facial combines functional herbal complexes with fascia massage influenced by the principles of Traditional Chinese Medicine (TCM). Employing lymphatic drainage and proprietary connective tissue massage, a Susanne Kaufmann Facial stimulates the skin's metabolism while relieving stress-related tension. Facials have a really beneficial detoxifying and cleaning effect and work against signs of aging.
You have created several products that are focused on detoxifying the body. How important is it to detox the body? And, for those that have never detoxed before, how do you suggest that they begin?
How do we feel when our body needs a detox? We tend not to feel comfortable in our own skin and are often faced with problems concerning our skin like blemishes and irritations. We believe that detoxing the body can really help with the skin. Depending on where you live, your lifestyle, and skin conditions you can do this several times a month. Or if it suits you better, a detox is still effective when done twice a year.
It is important to note that a full detox means considering a combination of things, e.g. your nutrition/ diet, movement, and products.
First, let's focus on Nutrition. A shot of ginger is the best detox tip I have ever received. Nothing helps fight a looming illness like a cold or flu, combat a lack of energy or brighten a dull complexion better than a shot of freshly pressed ginger with lemon juice.
Secondly, to detox the body, I love to apply our Detox Oil.  The unique combination of active skin function oils such as Jojoba Oil, Avocado Oil, and Rose Hip Seed Oil helps the skin to detoxify and gives the tissues new elasticity.
If you are new to detoxing, you could also easily start with integrating cold-warm-treatments to your daily routine. Toxins are produced by our bodies and stay on our skin, especially overnight. This is why I start my morning with a cold shower. When I take a shower I start with really cold water to banish these toxins. Then I change to warm water and often switch back to cold again at the end. This process of exposing the body to cold and warm water stimulates and promotes a healthy immune system.
Another tip to maintain a positive well-being and healthy skin is to regularly visit the sauna. We have four different saunas and steam baths at Hotel Post Bezau. Saunas are perfect for deep cleansing, to relax or just to warm yourself up after a cold day.
I like to apply our Detox Oil Scrub before I go to the sauna because the skin feels so much better afterwards. It is important to apply the scrub using the lymph technique. You can do it by your own! Gently massage in the Detox Oil Scrub on to dry skin, and apply upwards towards the lymph nodes. Lymph nodes are located throughout your body, including your neck, armpits, groin, around your gut, and between your lungs. Starting with your legs, massage the calves up to the knee and continue to the thigh, always in an upward motion towards the lymph node. After the Detox Oil Scrub has seeped into your skin for a few minutes, wash off the product with lukewarm water and your skin will feel velvety soft. To detox, your body always means to clean your skin and to stimulate every single cell. You will see how thankful your body will be after getting a routine.
Based on all of your incredible experience, what is one of the most frequent mistakes you see in people's skincare regimens?
When it comes to skincare, less is more. People tend to do too much, for example using face peel masks too frequently. From time to time to use a facial peel. It is great for removing dead skin, dandruff, dirt, and sebum deposits. Excessive massaging with the small granules, however, irritates the skin and can dry out the delicate surface causing micro-cracks. Therefore, it is always best to be gentle and not over-exfoliate your skin. Once a week is recommended.
Your brand is natural, yet also very focused on technology and research. What is one of the biggest misconceptions about natural skincare and beauty products?
The biggest misconception I hear sometimes is that natural skincare does not work as effectively as synthetic brands. This is not true, and our brand is a testament to this.
As a connoisseur of natural ingredients, what do you think is the most important thing to check for when buying beauty products?
Always make sure what you are buying suits your skin type. It's always great to seek advice from a Skin Expert first – many people have a totally different opinion of what they think they need.
Do you have any tips on how to maintain a healthy lifestyle whilst dealing with a really hectic schedule?
Many people like to do a mask the day before a big event, but I prefer to do it right before I apply my make-up. Our Moisturizing or Lifting Mask really plumps up the skin. And it helps foundation blend in flawlessly.
I like to eat healthy and always cook with fresh ingredients. For me, good nutrition is an all-year thing, not just a new years' resolution. But I try to not restrict myself too much. When we have dinner, I really enjoy having a glass of excellent wine with it. I always try to stay hydrated from when I wake up until I go to bed. The whole body benefits from drinking water. I like to eat food from local producers and seasonal vegetables. The Bregenzerwald is known for its high-quality in food. Porridge with berries in the morning sets me off on the right track for a positive day. I feel the best when I limit my intake of carbs and sugar. I don't take a lot of supplements, only alkalizing powders from time to time.
And sleep! A lot of sleep is particularly important for cell renewal. The body benefits more from an extra hour of sleep in the morning than from an exercising session. Especially when you have a more hectic schedule you should aim to always give time for your body to rest.
What are some healthy practices that you rely on (especially during this insane time)?
The forced pause to our social lives that we have encountered recently has allowed us to have more time, which in turn has allowed us to calm down. But it can still be very difficult for many to calm down mentally. Our daily routines were thrown upside down, but for me it becomes an opportunity to create a new routine, whether this is with your family or for yourself. A new daily structure and the incorporation of rituals can help a lot. What we often neglect, is dedicating time for ourselves. Why shouldn't you use the current situation to do something good for yourself? Especially in these stressful and uncertain times, it is important to pamper yourself and to find inner peace.
You seem to lead a wonderful, active lifestyle. What activities do you enjoy doing in your free time?
It is really important for me to exercise regularly. Outdoor or indoor fitness– I always try to work out in the morning. Excercising before bed is a no. It gets your heart rate up and is counterproductive to sleep. I think a big issue for women is that they focus on cardio and ignore weight training. And that is so important, especially for women! I try to mix up my fitness routine: 2 times per week I'll do some running or biking in the mountains nearby, and 2 to 3 times I will take a Pilates class or I go to our gym/fitness room and work with the weights.
What is the first thing you do when you wake up?
I wake up at 7am to get my children out of bed. Then we have breakfast all together. I always treasure this time with my children.
What is your typical skincare regime?
First I use the Cleansing Milk then the Tonic Soothing from my range to clean my face and remove any impurities. Then, before applying my day cream I apply our Hyaluron Serum – it supports the skin cells in retaining moisture, giving you that extra boost of hydration. I always finish with the Eye Cream Line A around my eyes.
For my body care, I will always reach for the product my body needs that day. I will use the Body Butter when my skin is feeling dry, or one of our Body Oils when I need more nourishing care. I love the fact that our products are tailor-made for all skin problems.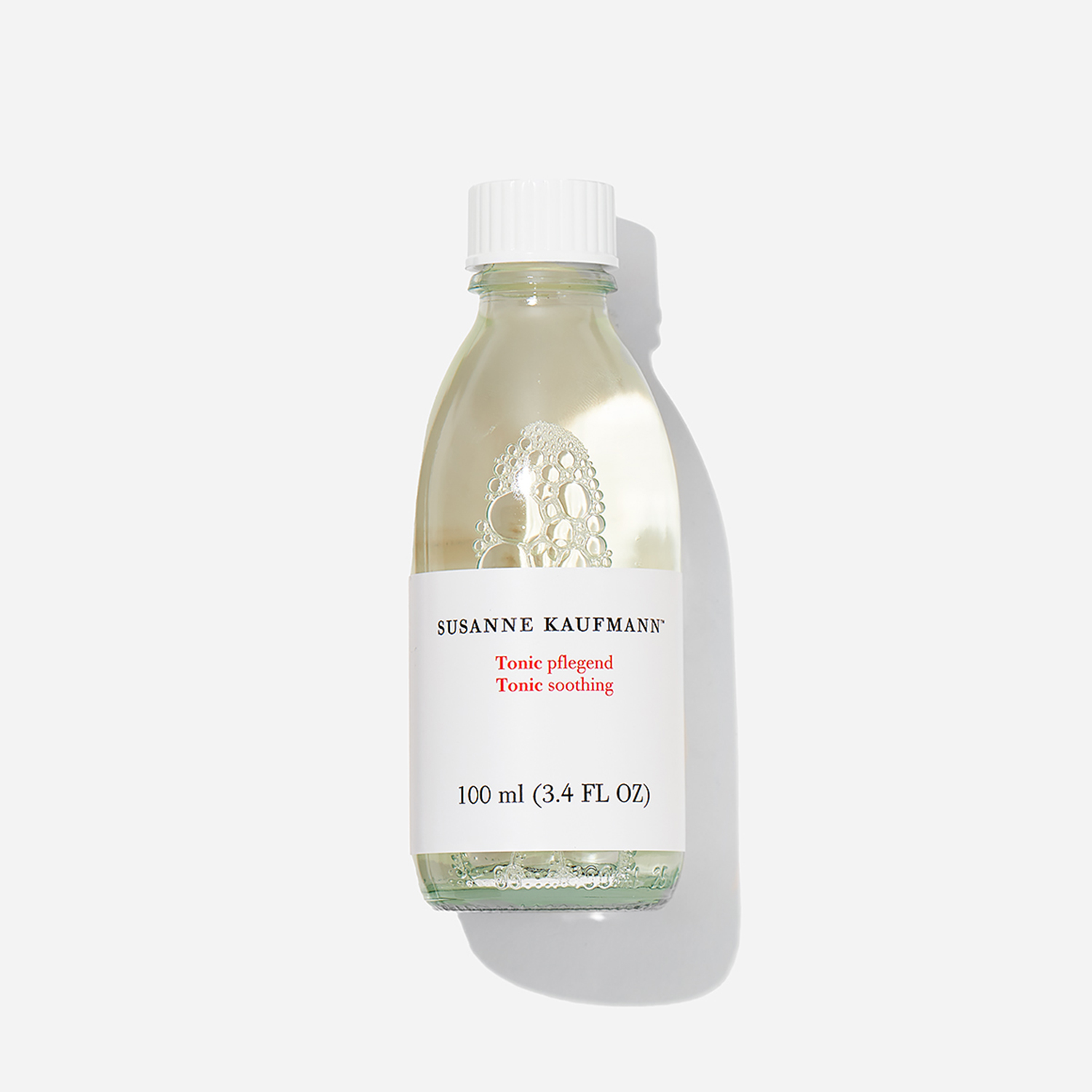 Susanne Kaufmann
Tonic Soothing
$46.00
This gentle tonic thoroughly cleanses the face in the morning and evening to prepare the skin for subsequent care. The alcohol-free formula effectively combats shine and is especially suitable for skin prone to dryness. Because of its natural ingredients, it may become slightly cloudy.
What do you love the most about what you do?
It is the variety of my work that I love most, every day is different. I really enjoy working with my team and the possibility to make things better.
What advice would you give to aspiring entrepreneurs?
Never give up and go your own way!
What is next? Any sneak peek?!
We have recently created a Disinfectant Hand Gel that is both highly effective against infectious viruses, and nourishing for the hands. The development started some time ago, but with Covid-19, we sped up our efforts and are pleased to launch this very soon.